Cancel Faculty Recruitment Notification of EFLU: Sravan
Criticizes EFLU Vice Chancellor for violating OBC reservations despite clear UGC guidelines exist
Reiterates that the Congress Party will fight against deliberate discrimination of OBCs in reservations
New Delhi, February 04: EFLU: AICC National Spokesperson Dr Sravan Dasoju here demanded for cancellation of faculty notification (Notification no. I/2020) issued by the English and Foreign Languages University (EFLU) for the recruitment of 58 teaching faculty as it is being violated by the Vice Chancellor who is deliberately discriminating against the Other Backward Classes (OBCs) by denying them the due share in the recruitment process.
The senior Congress Party leader, while speaking to the media in New Delhi, criticized the Vice Chancellor, Suresh Kumar, for openly violating the UGC prescribed norms in implementation of reservation roster for OBCs and he demanded to scrap the ongoing faculty notification and also to follow the OBC reservation for the filling up backlog identified reserved teaching and non-teaching posts.
"Ref to letter no. F-1-8/2014 (SCT) dated February 01, 2021 issued by UGC, you are supposed to fill up remaining backlog identified reserved vacancies under these categories in teaching and non-teaching posts and also to furnish the relevant data regarding all the teaching and non-teaching recruitment data as to whether your respective University had followed the reservations of STs, SCs, OBCs and Persons with disabilities or not and the information should be shared with the UGC on its portal", Dr Sravan asked.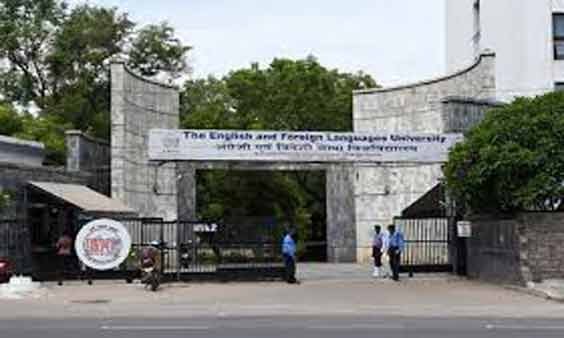 Sanctioned posts at EFLU:
According to Dr Sravan, despite there are 236 sanctioned posts at EFLU in which 63 positions must be allotted to OBCs as per the 27% reservation criteria for OBCs in all the reservations, however, there are only 25 OBC candidates currently working at the University. And even in the recent notification given for filling up 58 faculty positions, only 8 are allocated for OBCs as against the required 15 posts should have been allotted to them.
"It is quite unfortunate that despite being the Prime Minister himself an OBC who is sitting in the right next building (Parliament), our prestigious institutions such as EFLU are deliberately denying OBCs in reservations", he lamented.
The senior Congress leader reiterated that their party is going to fight against the discrimination of OBCs in reservations and the matter is also brought to the notice of Mr Rahul Gandhi.
National Commission for Backward Classes:
Dr Sravan Dasoju on January 21, 2021 approached the National Commission for Backward Classes (NCBC) highlighting the violations which were taking place at EFLU. Responding to his appeal, the NCBC has initiated a proceeding against the University over violations of OBC reservations in faculty recruitment.
He thanked Mr Achary Thalloju, Member, NCBC for his ferocious response in this sensible and most important matter in the best interests of the OBCs.
Meanwhile, the Chairperson of the National Commission for Backward Classes (NCBC) on February 02, 2021 issued orders in which he has directed the Vice Chancellor of EFLU to appear in person before the Commission on February 05, 2021 with all facts and original documents pertaining to the subject matter. Until further orders, there will be a stay on conducting interviews by your respective University.(Maxim News)
Now you can get latest stories from Indtoday on Telegram everyday. Click the link to subscribe.  Click to follow Indtoday Facebook page and Twitter and on Instagram