Vijayawada, February 2: Telugu Desam Party chief Chandrababu Naidu met the party's official spokesperson Pattabhi at his residence here on Tuesday.
He inquired about the incident. It is known that some unidentified miscreants attacked Pattabhi with iron rods and vandalised his car while he was on the way to the office from his residence.
Pattabhi attacked CCTV Visuals:
CCTV footage of attack on TDP national spokesperson @PattabhiRamK1! The visuals are definitely scary. Unfortunate how things are panning out in Andhra Pradesh ever since announcement of Panchayat elections. Plz take care and get well soon Pattabhi garu @JaiTDP #AndhraPradesh pic.twitter.com/0CnrTdudtm

— Revathi (@revathitweets) February 2, 2021
TDP leader Buddha Venkanna, Devineni Uma followed Chandrababu Naidu.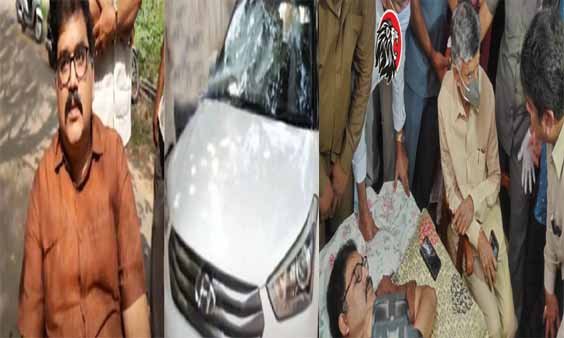 TDP leaders disclosed how the miscreants attacked Pattabhi. Chandrababu Naidu condemned the attack on Pattabhi today.
వైసీపీ ముష్కరుల దాడి లో గాయపడ్డ టీడీపీ అధికార ప్రతినిధి @PattabhiRamK1 ను పరామర్శించి, సంఘటనా వివరాలు తెలుసుకున్న టీడీపీ అధినేత చంద్రబాబు నాయుడు.@ncbn pic.twitter.com/qMzM93bzbd

— Telugu Desam Party (TDP Official) (@JaiTDP) February 2, 2021
In the CCTV visuals, unidentified persons were seen running towards the car in which TDP spokesperson Kommareddy Pattabhi was sitting and attacking the car and him with iron rods and stones.
Prior to the arrival of the car, they were seen waiting under the trees and two miscreants were ready on bikes to escape after assaulting Pattabhi.
YSRCP activists:
The TDP leaders alleged that the YSRCP activists are behind the attack. The police registered a case and are in the process of identifying the accused. TDP national president N Chandrababu Naidu has consoled Pattabhi.
Meanwhile, Pattabhi responded to the incident and said 15 people came and attacked his vehicle, attacking him with rods, sticks and boulders. Pattabhi alleged that he had been receiving threatening calls for last 10 days and had attacked me for exposing government corruption. Pattabhi commented that he was attacked by a conspiracy to assassinate him according to plan.
He said that the perpetrators had erupted in the area where the VIPs were moving and police had not taken any action on those who launched attack on him six months ago. However, now Pattabhi was attacked again. Pattabhi said that the DGP and the Commissioner of Police should respond and come here and asserted that he will sit on the road until justice is assured.
Pattabhi said that he was being attacked this time due to the negligence of the police and demanded that the police conduct an honest investigation. However, Pattabhi was an active participant in the discussions organized by the news channels.
Now you can get latest stories from Indtoday on Telegram everyday. Click the link to subscribe.  Click to follow Indtoday Facebook page and Twitter and on Instagram