City Police Stopped Revanth Reddy from Visiting Secretariat
Revanth Reddy | Hyderabad, May 1 (Maxim News): Hyderabad police on Monday stopped Telangana Congress chief A. Revanth Reddy from proceeding to state Secretariat. Police stopped Revanth Reddy near Telephone Bhavan near the Secretariat. Revanth, who is also a member of Parliament, took exception to the police action.
He said he was going to the Secretariat to meet Special Chief Secretary Municipal Administration Arvind Kumar over the issue of the leasing of the Outer Ring Road (ORR) to a private party.
He questioned the government's decision to lease ORR for 30 years. Police said Revanth was stopped as he had not taken permission to meet officials. The Telangana Pradesh Congress Committee (TPCC) chief argued that there is no need to take appointments to go to the Secretariat. Revanth wanted to know the rules under which he was being stopped. Police have beefed up security at the Secretariat, which was inaugurated on Sunday. Barricades have been erected at the entrance.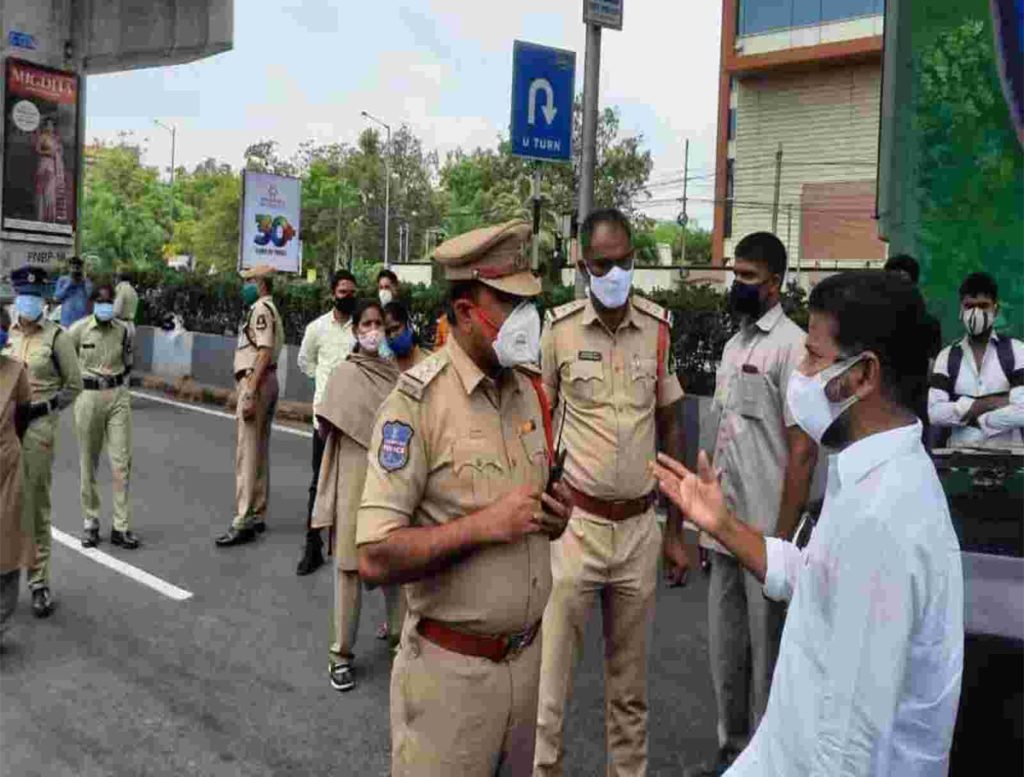 The TPCC chief said that the leasing of ORR by the government was a big scam. He said the project that would generate Rs 30,000 crore in the next 10 years was leased out for just Rs 7,380 crore. Revanth had told reporters on Sunday that huge sums had changed hands in the deal. The ORR, which is estimated to grow at least 10 percent annually, cannot be given away at a throwaway lease price, he argued.
He claimed that the toll collection on the ORR is Rs 2 crore every day and the extension without any tender benefitted the bigwigs, and Minister for Municipal Administration K. T. Rama Rao should explain the reasons for the extension without the tender. He said the Congress government would surely review the lease as soon as it comes to power after the next elections and warned that those behind this shady deal will not be spared. (Maxim News)
---
Next Story:
Hyderabad, Dec 1: A voter turnout of 70.66 per cent was recorded in the polling for Telangana Assembly elections held on November 30, the Election Commission of India has said.

---
Now you can get the latest stories from Indtoday on Telegram every day. Click the link to subscribe.  Click to follow Indtoday's Facebook page and Twitter and Instagram. For all the latest Hyderabad News updates