CM KCR Birthday Celebrations 2021
PM and others greet CM KCR on birthday
Hyderabad, February 17: Telangana CM KCR has been celebrating his birthday on February 17 Wednesday.  The State government has made an elaborate arrangement to conduct the birthday of CM KCR.
According to Minister Talasani Srinivas Yadav, the birthday celebration of CM will be conducted at Jala Vihar.  Reports suggest that a 30-minute special documentary of the CM KCR will be screened on his birthday and five special songs.
A special song has been released on CM KCR highlighting his services and commitment towards the Telangana State on the special birthday occasion.
Mittapalli Surender penned the lyrics of the song. Chinmayi, Dhanunjai and Jublee 10 Naresh have crooned the song.
Greetings to Telangana CM KCR Garu on his birthday. Praying for his long and healthy life.

— Narendra Modi (@narendramodi) February 17, 2021
"Greetings to Telangana Chief Minister KCR Garu on his birthday. Praying for his long and healthy life," Prime Minister Modi tweeted.
గౌరవ ముఖ్యమంత్రి శ్రీ కే. చంద్రశేఖర్ రావు గారికి హార్థిక జన్మదిన శుభాకాంక్షలు.
మీరు ఆయురారోగ్యాల తో ప్రజా సేవలొ ముందుకు సాగాలని హృదయపూర్వకంగా కోరుకుంటున్నాను.Warm birthday greetings to honb @TelanganaCMO Shri KCR garu & prayers for future years with all happiness & health pic.twitter.com/mYGzXnTTeM

— Dr Tamilisai Soundararajan (@DrTamilisaiGuv) February 17, 2021
Governor of Telangana Dr Tamilisai Soundararajan also wished CM KCR by tweeting.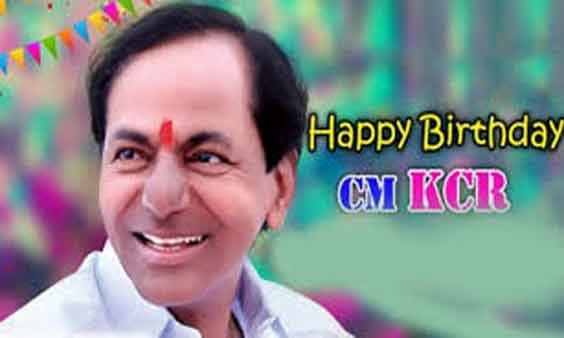 Telangana Assembly Speaker Pocharam Srinivas Reddy and several ministers have greeted Chief Minister K Chandrasekhar Rao on his birthday on Wednesday. Srinivas Reddy hailed KCR as a great leader who fulfilled the aspirations of four crore people of Telangana. He said the CM has proved himself as inspiration to others with his administrative, development, welfare activities.
Finance Minister T Harish Rao said the decades-old dream of Telangana became real because of KCR."Bangaru Telangana" would also be possible with him. "The fate of Telangana changed after you became the CM.
Telangana State is marching forward in development under your leadership. Happiness is spreading in every house in the State. Your birthday is a festival for Telangana. The five crore population of Telangana is blessing you," said Rao.
Agriculture Minister S Niranjan Reddy described KCR as an outstanding genius who turned his words as weapons and achieved Telangana through non-violence. He said KCR has an uncompromising personality in the interests of people.
Reddy hoped that decades-old aspirations of people of Telangana would be achieved under the leadership of KCR. Ministers P Ajay, Satyavathi Rathod among others also greeted the CM.
Now you can get latest stories from Indtoday on Telegram everyday. Click the link to subscribe.  Click to follow Indtoday Facebook page and Twitter and on Instagram