Congress's Six Guarantees Will Benefit Over 85% Of Old City Residents
Hyderabad, September 19: Hyderabad DCC President Sameer Waliullah on Tuesday said that the six guarantees unveiled by Congress leader Sonia Gandhi for the coming Assembly elections will benefit over 85% of residents of the Old City of Hyderabad.
Sameer Waliullah, in a media statement on Tuesday, said that the six guarantees – Mahalakshmi, Rythu Bharosa, Gruha Jyothi, Indiramma Indlu, Yuva Vikasam, and Cheyutha – would directly benefit lakhs of poor families in the Old City of Hyderabad.
Elaborating on how the six guarantees would benefit the Old City residents, the Hyderabad DCC President said that the Mahalakshmi scheme promises women Rs 2,500 monthly, LPG at Rs 500, and free RTC bus travel. This will counter inflation which reached its peak under the BJP and BRS governments in Telangana. Similarly, the Rythu Bharosa guarantee offers farmers Rs 15,000 annually, agricultural workers Rs 12,000 plus a Rs 500 paddy bonus. This would reduce the food and vegetable prices, which will reduce the regular expenses of poor and middle classes, he said.
The Gruha Jyothi guarantee provides 200 units of free electricity to Telangana households, cutting power costs. Almost all households in the Old City will benefit from this. Further, the Indiramma Indlu scheme promises land and Rs 5 lakh for the homeless. With a majority of Old City residents living in rented homes, this scheme would change their lives permanently, he said.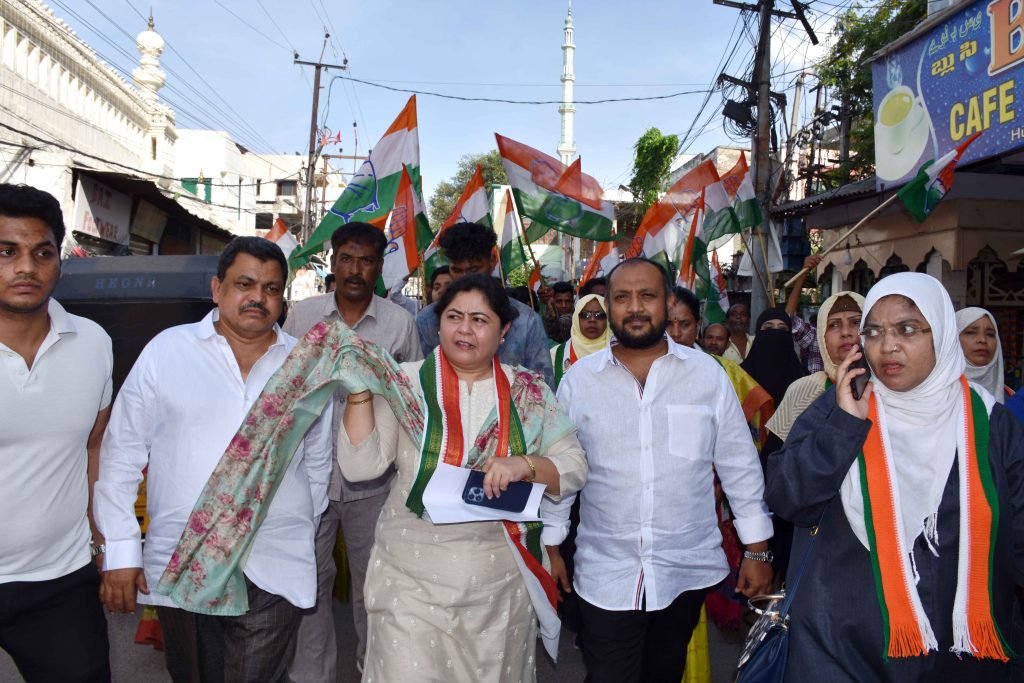 Sameer Wailullah said that under the Yuva Vikasam scheme, students, including those residing in the Old City, would get Vidya Bharosa Cards worth Rs 5 lakh. He also said that he would make efforts for the construction of an international school in the Old City. The Cheyutha guarantee ensures a Rs 4,000 monthly pension for the needy, and Rajiv Arogyasri covers treatments up to Rs 10 lakh.
The Congress leader said that the party has already begun the distribution of six guarantee cards among the residents of the Old City. He said that the party got a tremendous response from the public when AICC Mahila Congress chief Netta D'Souza, TPCC Mahila President Sunitha Rao, and other leaders conducted a door-to-door padayatra in the Charminar constituency to distribute the guarantee cards on Monday. He added that their campaign went on till late evening and they got an overwhelming response from the people, especially women who were happy to learn that they would get Rs 2,500 monthly and the LPG cylinder for Rs 500.Sameer Waliullah said that the Congress party will soon unveil its declaration for the Old City and it will reach all households in all Assembly constituencies under Hyderabad Lok Sabha with the guarantee cards and the Old City declaration seeking people's support in the next elections. (Maxim News)
---
Next Story :
In observance of World Heart Day, Reliance General Insurance conducted a survey on the trends and patterns of cardiac procedures in India. The survey focused on Coronary Angiography (CAG) procedures, which are used to diagnose and treat coronary artery disease. The survey analyzed the data of CAG procedures performed in the age bands of 19-35 and 36-45 from 2018 to 2023. 

---
Now you can get the latest stories from Indtoday on Telegram every day. Click the link to subscribe. Click to follow Indtoday's Facebook page, Twitter and Instagram. For all the latest Hyderabad News updates