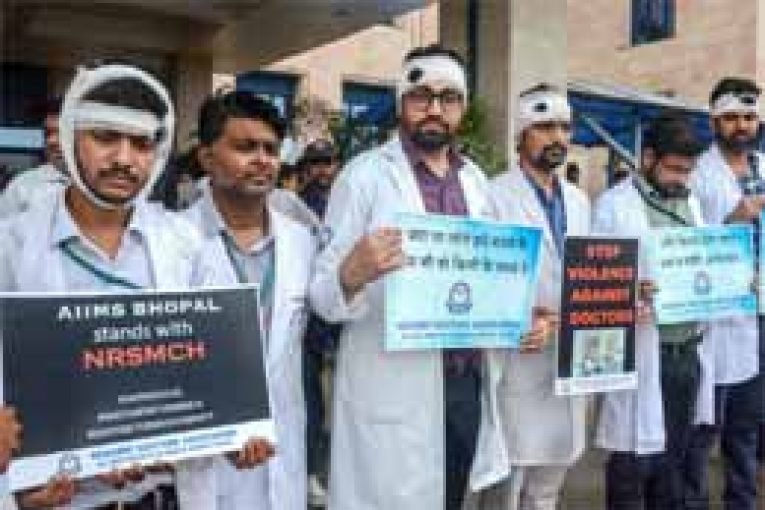 Hyderabad, June 17 (Maxim News): The nationwide strike called by the Indian Medical Association (IMA) to protest against the attack on doctors in West Bengal affected medical services in the government and private hospitals in Telangana and Andhra Pradesh States on Monday. The out-patient services at major government hospitals like Osmania General Hospital, Gandhi Hospital, ENT Hospital and Nizam's Institute of Medical Sciences (NIMS) and others came to a standstill in the capital city.
Hundreds of patients, who visited strike-hit hospitals from various parts of the State had to face hardships as doctors stayed away from their duties and participated in protests condemning attacks on their colleagues in West Bengal.
Doctors boycotted all services except emergency at the government and corporate hospitals and nursing homes. Doctors at Osmania Hospital staged a protest, demanding punishment to those involved in the attack. They were carrying placards with slogans 'no security no service' and 'suffering but still serving'.
At the protest held at Gandhi Hospital, the doctors demanded stringent law to deal with the attacks on their fraternity. Out-patient services also came to a halt at government and private hospitals in the rest of Telangana.
Patients suffered in Andhra Pradesh as doctors struck work in response to the shutdown call by the IMA. Doctors at hospitals in Vijayawada, Guntur, Visakhapatnam, Tirupati, Kurnool and other places boycotted their duties and staged protests.
Medical fraternity in BIACH&RI also organized a protest on its premises. The doctors boycotted all medical services except emergency, causality services in the hospital. IMA Telangana president Dr Pratap Reddy; IMA Telangana Secretary Dr Sanjeev Singh Jadav, IMA Telangana secretary Dr Shiva Linga and other executive members of IMA Telangana participated in the agitation along with doctors of BIACH&RI.
Doctors of Maxi Vision Eye hospitals also joined the nationwide doctors' strike today. They have extended their support to doctor strike observed across India today and condemned the attack on junior doctors. They suspended all out-patients services and put the surgeries on hold showing their solidarity towards protesting doctors.
Speaking on the occasion, Dr Kasu Prasad Reddy said there was need for implementation of strict laws across nation to prevent such untoward incidents in future. Central government must take the issue seriously and register criminal against those assaulting doctors.
Members of the Obstetrics & Gynecological Society of Hyderabad also went on strike against violence on doctors on Monday from 6 am on June 17to 6 am on June 18. (Maxim News)