Karim Nagar Congress leader Ch Lakshmi Narsimha Rao joins TRS
Hyderabad, Dec.8 (Maxim News): Municipal and IT Minister KT Rama Rao today criticised that the Centre has
miserably failed to resolve farmers issues and hit out at the congress and BJP leaders for spreading falsehood. He welcomed PCC general secretary Chelmeda Lakshmi Narsimha Rao with his followers into the TRS party fold at Telangana Bhavan here with Minister Kamalakar, MP Keshava Rao and others. 
The Minister expressed gratitude to the congress leaders for joining the TRS fold for Karim Nagar and state development.
He expressed disappointment that the centre failed to lift Paddy and rice stocks from the state. Union minister Piyush Goyal slammed BJP state leaders for promising to get paddy and rice, he said. As Goyal denied to take more stocks we urged farmers to cultivate alternative crops instead of paddy.
The Minister asked the TRS leaders to take on false campaign by the congress as the BJP leaders on the state government.  The TRS leaders in all districts should give a fitting reply to the opposition parties on their charges in social media he said.He took serious exception to TPCC Chief Revanth Reddy, BJP president Sanjay, MP Arvind for their continuous allegations.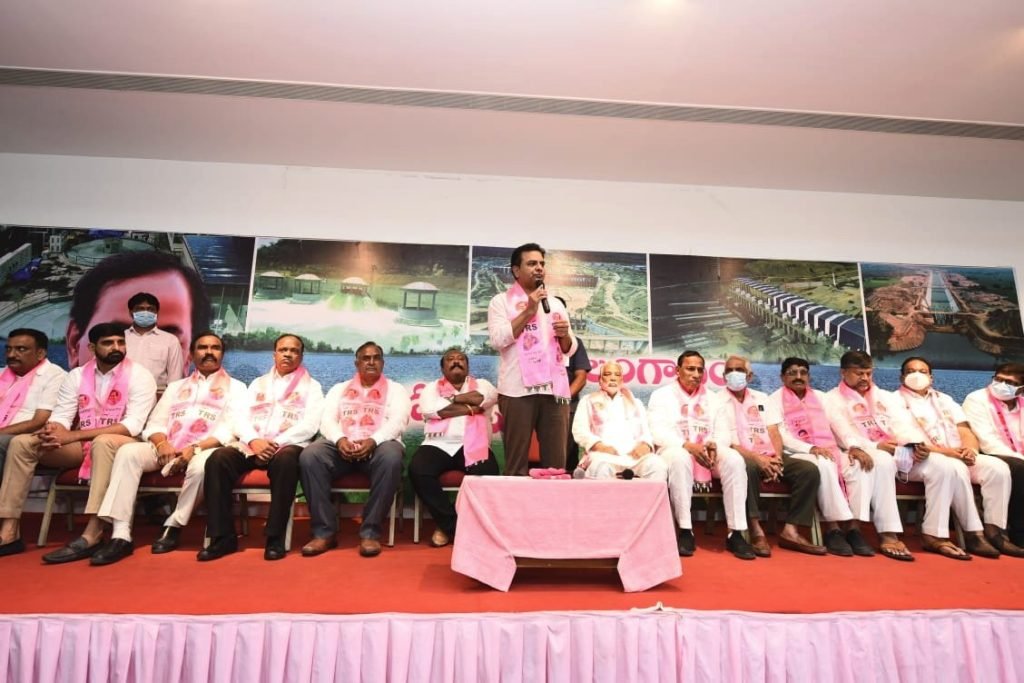 KTR accused the Congress and the BJP leaders in the state of indulging in falsehood on Chief Minister K Chandrasekhar Rao. Our per capita income increased to 2.17 from 1.02 and credit goes to progressive policies of the Chief Minister, he asserted.
They are resorting to make baseless allegations that KCR Government involved in ars 10000 Cr in rice procurement and supply. Both Revanth, Sanjay lost mind and headless for their charges. He expressed wonder at the comments of Revanth against the chief minister. Revanth makes ridiculous charges of corruption and looting public money and hatching to get treasure under Secretariat lands.
KCR is only the chief minister to give 24 hour power, Rythu bandhu, Rythu bhima and big amount of pensions and benefits to all sections. No other state implementing such schemes including those in rule by the BJP or the congress he said. With movement spirit the state Government has addressed power problems KTR said.
He also claimed that the government set a record by construction of Kakeshwaram lift irrigation project in three years. The centre denied national status to one irrigation project, Navodaya schools, medical colleges, steel, coach factories and development programs and funds and shows partiality towards Telangana state, he fumed.
He said that the BJP leadership is trying to misguide the farmers and the people as well.  The Minister hit out at the centre for deceiving the farmers and denied to take paddy, rice stocks from Telangana. The Minister said that the BJP Government to avoid false charges on the state government on farm issues.
The BJP government suppressing the farmers, he charged. KTR also demanded that the centre should resolve farm issues.  The TRS leaders will teach opposition parties a lesson if they fail to stop blaming with false charges, he said.  (Maxim News)
---
Next Story :
Delhi/Hyderabad, Oct 4 (Maxim News): The Supreme Court on Wednesday questioned Additional Solicitor General (ASG) S.V Raju representing the Enforcement Directorate 9ED) in the Prevention of Money Laundering Act (PMLA) case against former Delhi Deputy Chief Minister Manish Sisodia, on why the political party was not an accused yet.  the court asked the ED to reply to…

---
Now you can get latest stories from Indtoday on Telegram everyday. Click the link to subscribe. Click to follow Indtoday Facebook page and Twitter and on Instagram. For all the latest Hyderabad News updates