Hyderabad, February 11: Mayor: Telangana Rashtra Samiti leader Kalvakuntla Kavitha reacted after the Greater Hyderabad Municipal Corporations Mayor and Deputy Mayor elections.
Mayor Gadawala Vijaya Lakshmi:
It is known that TRS Corporators Gadawala Vijaya Lakshmi and Mothe Srilath Reddy elected as Mayor and Deputy Mayor respectively. Reacting to their election, TRS leader Kavitha said it is very happy to elect women the Mayor and Deputy Mayor of GHMC.
She said that TRS committed to the empowerment of women in the state and allotted both Mayor and Deputy Mayor seats to women. Kavitha tight-lipped over the support of MIM in the GHMC Mayor election.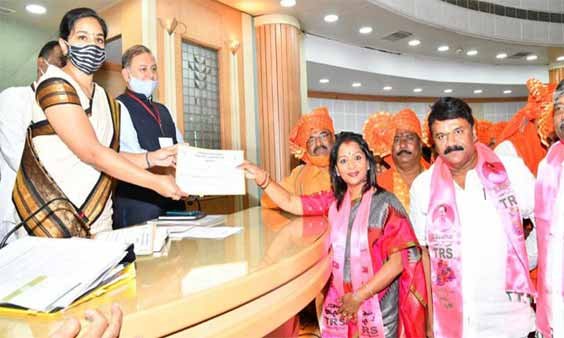 It is to mention that the Banjara Hills corporator Vijayalaxmi R Gadwal of the TRS party has been elected Mayor of Hyderabad. The mayor has been elected by show of hands.
Gadwal Vijayalaxmi is now the 17th mayor of GHMC.  She defeated BJP's nominee RK Puram corporator Radha Reddy. #HyderabadMayor is Gadwal Vijayalaxmi is the daughter of senior TRS leader & RS MP Keshav Rao.
M. Srilatha Reddy, also of the TRS and the corporator from Tarnaka, was elected the Deputy Mayor. She defeated the BJP's Shankar Yadav.
Earlier, the oath taking ceremony of the newly elected corporators of the Greater Hyderabad Municipal Corporation (GHMC) was completed with Presiding Officer Swetha Mohanthy conducting the proceedings. Election Observer Sandeep Kumar Sultania monitored the proceedings.
Following the appeal from Telangana Rashtra Samithi (TRS) party, the oath taking ceremony was conducted as a group and not for individual candidates. The same appeal was supported by MIM and BJP parties.
Now you can get latest stories from Indtoday on Telegram everyday. Click the link to subscribe.  Click to follow Indtoday Facebook page and Twitter and on Instagram