In a significant development a Memorandum of Understanding was signed between the Ministry of Ayush and the Indian Council of Medical Research (ICMR) to promote and collaborate on integrative health research. This cooperation will focus on identified areas of national importance in healthcare for promoting high impact research to generate evidence utilizing modern scientific methods. This MoU will also strengthen research capacity through training of Ayush researchers.
MoU was signed by Vaidya Rajesh Kotecha, secretary, Ministry of Ayush and Dr. Rajiv Bahl, Director General, ICMR & secretary, Department of Health Research, Ministry of Health & Family Welfare, Government of India.
Sarbananda Sonowal, Union Minister of Ayush and Ports, Shipping & Waterways, Dr. Mansukh Mandaviya, Union Minister of Health and Family Welfare and Dr. Bharati Pravin Pawar, Minister of State for MoHFW, Dr. V K Paul, Member, NITI Aayog, Rajesh Bhushan, secretary, Ministry of Health and Family Welfare, P. K. Pathak, special secretary, Ministry of Ayush along with other senior officials of both ministries were present during the signing ceremony.
On this occasion Sarbananda Sonowal said, "Our Prime Minister Narendra Modi has guided us to integrate the benefits of both Traditional and Modern Medicine for the benefit of mankind. Through the cooperation of ICMR, today, both Ministry of Ayush and Health have taken a very far reaching step in this direction."
He added that our traditional medicine system faces a major challenge of generating scientific evidences. The research cooperation in Integrated Medicine is a step forward in providing solution to this challenge and winning confidence of multitude. Public at large will be benefited hugely by the close cooperation.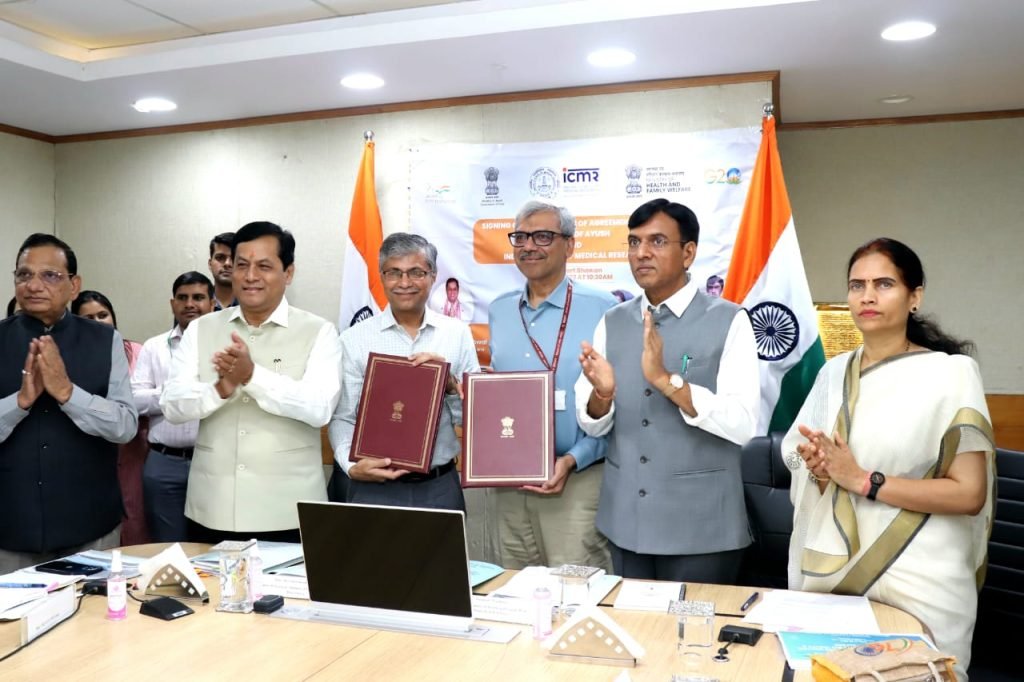 Dr. Mansukh Mandaviya said, "Ayurveda is our age old knowledge system, our heritage. Modern medicine has today created a niche for itself. This MoU between both the systems will help traditional Knowledge to create a niche. Through this MoU, we will be able to further develop Ayurveda as evidence based science. This MoU will prove to be very important in enriching Ayush system of medicines."
Dr. V K Paul, Member, NITI Aayog said, "This is an important step from perspective of research based on scientific evidence. Steps will be taken to expand functioning of present Ayush departments in new AIIMS. Currently, they are working as only service department but going forward it will be made department of Integrative Medicine with focus on academic research."
This MoU will enable both parties to jointly establish Ayush-ICMR Centers for Advanced Research in Integrative Health at all AIIMS with co-funding. Further, they will explore possibility to work on public health research, take initiatives for addressing diseases of national importance and look at possibilities of conducting high-quality clinical trials jointly on identified areas/disease conditions of national importance with promising therapies of Ayush system to generate evidence for wider acceptance.
The MoU will facilitate looking at the possibility of inclusion of research on Integrative Medicine in the "National ethical guidelines for biomedical and health research involving human participants" by ICMR-DHR. Both parties have agreed to establish a joint working group which will meet quarterly for exploring further areas of collaboration and work on deliverables, formulate and implement joint research projects/programs and allow joint supervision of the activities.
One of the important aspect of this MoU is related to building research capacity, which will be led by ICMR for Ayush researchers. It will develop a curriculum; facilitate the development and delivery of training modules. Ministry of Ayush and ICMR will also design and conduct conferences/workshops/seminars jointly with active participation of researchers interested in the field of Integrative healthcare.
To further augment the cooperation between Ministry of Ayush and Minister of Health and Family Welfare the fifth inter-ministerial convergence meeting was also held today under the joint chairmanship of Shri Sarbananda Sonowal, Union Minister of Ayush and Ports, Shipping & Waterways and Dr. Mansukh Mandaviya, Union Minister of Health and Family Welfare. In this meeting, issues related to synergy and cooperation was discussed and both the ministries agreed upon many important matters.
---
Next Story :
Hyderabad, Dec 1: A voter turnout of 70.66 per cent was recorded in the polling for Telangana Assembly elections held on November 30, the Election Commission of India has said.

---
Now you can get the latest stories from Indtoday on Telegram every day. Click the link to subscribe. Click to follow Indtoday's Facebook page and Twitter and Instagram. For all the latest Hyderabad News updates