Talasani, Ali Say Cases Decline in TS, Slam Oppn Jibe On Measures
Hyderabad, May 17 (Maxim News): Animal Husbandry Minister Talasani Srinivas Yadav and Home Minister Mahamood Ali today said that Corona cases deaths and intensity have come down.
With efficient coordination by the officials concerned the Corona cases in pandemic of second wave are declining.
They held a high level meeting on Corona cases and measures to check the virus spread and break the chain at GHMC with Mayor Vijaya Lakshmi, Deputy Mayor, Srilatha Reddy, Dy. Mayor Ms. Mothe Srilatha Shobhan Reddy, Addl.CP Anil Kumar, Commissioner GHMC Lokesh Kumar, Collector Hyderabad Ms.Swetha Mohanthi, superintendents of Hospitals and other senior officials of Government Departments participated in the meeting.
With the proper functioning of Government Hospitals and Basthi Dhawakhanas, door to door fever survey and special sanitation drive the no of positive cases declined. Regarding administering 2nd dose, vaccine is not received from the Central government from last 3 days and it is temporarily stopped and will be resumed as and when it received. Separated control room is opened in GHMC with No. 040-21111111.
On the occasion, Srinivas Yadav flayed that some political parties trying to get mileage by making comments on the government. The cases coming down through collective efforts in the lockdown with more facilities in the hospitals. Despite that the opposition parties make false charges he alleged.
He alleged that in the name of giving food to poor some leaders are violating lockdown norms in the state. House to house survey and distribution of medical kits will gel find cases and bring down. Regulate drive of sanitization by entomology and cleansing followed by Corona protocols will help reduce cases in the lockdown. We have to follow lockdown and stay home to break the chain he said. The leaders of the opposition parties should extend support to bring down cases and intensity he suggested.
The Minister said that second dose of vaccination is stalled temporarily due to shortage of vaccines from the centre. On getting the supply of the injections and oxygen supply the vaccination drive will continue without any delay. The people are getting treatment and services in the hospitals and can get vaccinated on reaching the stocks, he assured.
Srinivas Yadav flayed the Congress, BJP leaders for resorting to falsehood on Corona cases and measures to check the virus spread. The Government provided all facilities in the hospitals like oxygen, injections, medicines, beds and Remdesivir to offer timely services. Through coordinated efforts we will overcome the Corona crisis he said. Remdesivir, oxygen, injections, beds and facilities are in place they claimed. It is time to make collective efforts to check virus spread as a survey by medical teams is on to give medical kits to the people at their houses and find cases.
He appreciated the health officials and staff provide dedicated services to Corona patients.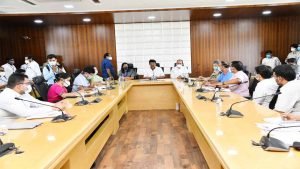 Mohd. Mahmood Ali said awareness should be created in getting Covid -19 information about Help line, Control Room. Further he said the Basti Dhawakhanas functioning for the welfare of the people and instructed to provide oxygen facility in emergency. The steps being taken by the Telangana Government is model to the other states in the country. In order to provide food facility to the poor and needy, the requirement quantity of food of Annapurna Canteens is increased. (Maxim News)
Now you can get latest stories from Indtoday on Telegram everyday. Click the link to subscribe.  Click to follow Indtoday Facebook page and Twitter and on Instagram