Hyderabad: In view of the installation and immersion of the Khairtabad Bada Ganesh from September 18 to 28, the city police issued traffic diversions for commuters.
According to police, the traffic diversions will be done on a need basis from 11 am till late night, depending on the visitors coming to darshan the Ganesh idol.
The general traffic intending to go towards Mint Compound from the Rajeev Gandhi statue will not be allowed and diverted at the Rajeev Gandhi statue towards Nirankari Junction. From Rajdoot lane towards Bada Ganesh traffic will be diverted at Rajdoot lane towards Iqbal Minar.
The traffic from Mint Compound towards IMAX Theatre will not be allowed and diverted at Mint Compound towards Telugu Thalli junction. From Necklace Rotary towards Mint Compound, traffic will be diverted at Necklace Rotary towards Telugu Thalli junction or Khairatabad flyover.
The commuters coming from the Khairatabad Post Office lane towards the Khairatabad Railway gate will not be allowed and diverted at the Post Office towards Old PS Saifabad junction.
Police said, that due to a large number of devotees visiting Bada Ganesh, traffic congestion is expected in the following junctions viz, Khairatabad, Shadan College, Nirankari, Old PS Saifabad, Mint Compound, and Necklace Rotary. Hence, commuters are requested to avoid these routes.
Parking Places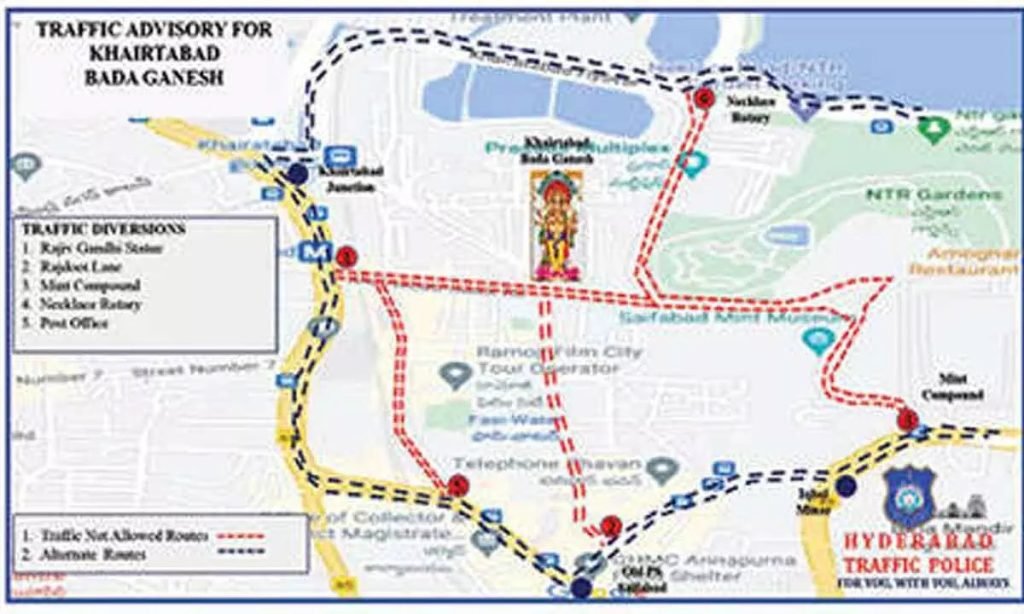 Visitors coming for Bada Ganesh darshan through Necklace Rotary and NTR Garden should park their vehicles at parking places beside IMAX, NTR Ghat, and NTR Garden parking places, or opposite IMAX on school premises.
Devotes coming on their own vehicles for Bada Ganesh darshan must come through Necklace Rotary and avoid Khairtabad Junction Road and Rajdoot Lane Road.
It is informed that the restrictions will be imposed depending on the number of devotees coming to have darshan of Khairtabad Bada Ganesh Idol.
Police requested the citizens to take alternate routes to reach their destinations avoid the mentioned routes during the specified timings and cooperate with the traffic police.
Any inconvenience in commuting, please contact the Hyderabad traffic police helpline at 9010203626.
---
Next Story:
In observance of World Heart Day, Reliance General Insurance conducted a survey on the trends and patterns of cardiac procedures in India. The survey focused on Coronary Angiography (CAG) procedures, which are used to diagnose and treat coronary artery disease. The survey analyzed the data of CAG procedures performed in the age bands of 19-35 and 36-45 from 2018 to 2023. 

---
Now you can get the latest stories from Indtoday on Telegram every day. Click the link to subscribe.  Click to follow Indtoday's Facebook page, Twitter and Instagram. For all the latest Hyderabad News updates