Water Quality in Musi River And Hussain Sagar Improves
Hyderabad: At a time when cities across the world are struggling with rising contamination levels in their rivers, two major water bodies in the city of Hyderabad, the Musi River and Hussain Sagar, are reporting exactly the opposite trend.
In the last few years, the water quality of Musi River and Hussain Sagar has improved a lot, officials point out. Several authorities, including the Greater Hyderabad Municipal Corporation (GHMC), Telangana State Pollution Control Board (TSPCB) and Hyderabad Metropolitan Water Supply and Sewerage Board (HMWSSB) are working together to ensure that pollution levels in these water bodies are reduced.
According to officials, the level of Biochemical Oxygen Demand (BOD), which represents the amount of oxygen consumed by bacteria and other microorganisms while they decompose organic matter, has gone down in the Musi. While the BOD was 58 mg/L in 2014, the same was recorded at 22 mg/L in 2020.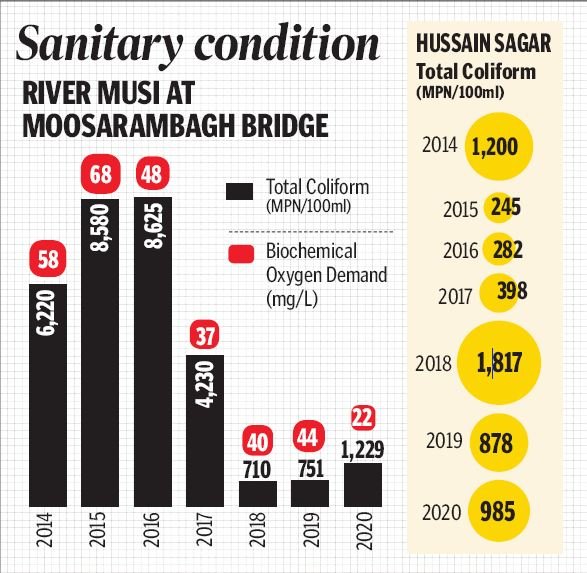 "Hyderabad has had a few good monsoon seasons, resulting in the improvement of water in Musi and Hussain Sagar. Another factor has been the continuous efforts of GHMC, TSPCB and HMWSSB to ensure that sewage entering their water bodies is first treated. The authorities have dredged the lake and shifted the solid waste to ensure that the water that flows in is cleaner. Earlier, only about 10 to 20 per cent of sewerage was treated. That is about 70 to 80 per cent now," he said.
Another drastic improvement has been observed in coliform levels, which gives a general indication of the sanitary condition of a water body. In 2014, the total coliform in Musi was recorded at 6,220, and the same in Hussain Sagar was 1,200.
---
Next Story:
Delhi/Hyderabad, March 31 (Maxim news):  The number of Covid-19 cases in the country has been increasing steadily, with the daily average of 313 in the first week of March, rising to 966 in the third week.  States like Maharashtra, Gujarat, Kerala, Karnataka, Tamil Nadu and Delhi are reporting the highest number of cases. 

---
Now you can get latest stories from Indtoday on Telegram everyday. Click the link to subscribe.  Click to follow Indtoday Facebook page and Twitter and on Instagram. For all the latest Hyderabad News updates