World Mental Health Day 2021: History and the Significance
October 10 is commemorated as World Mental Health Day. The World Federation for Mental Health (WFMH) has declared this year's theme to be 'Mental Health In An Unequal World' which will highlight the inequalities in the societies. That is to say it is aimed at how to decrease the ever increasing gap between the 'have nots' and the 'haves' and cater to the need of tending the mental health issues of people.
October 10, 1992 was the first time the World Mental Health Day was observed in over 150+ countries. It was the Deputy Secretary General Richard Hunter whose relentless efforts led to the observance. The day used to be celebrated to educate, and remove the general problems arising from mental illness until 1993. It was only in 1994, that the event began to follow a theme-based approach.
For the first time in that year, the event was commemorated on the theme of 'Improving the Quality of Mental Health Services throughout the World'. It was suggested by the Secretary General Eugene Brody.
World Mental Health Day is a global initiative supported by World Federation for Mental Health, World Health Organization, and member organizations of WFMH.
In 2018, the British Prime Minister Theresa Mary, Lady May on World Mental Health Day appointed Jackie Doyle-Price as the UK's maiden suicide prevention minister.
In some parts of the world like Australia, the World Mental Health Day is observed as a part of an awareness week.
WORLD MENTAL HEALTH DAY: SIGNIFICANCE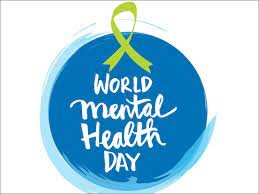 World Mental Health Day strives to spread awareness, educate and reduce the stigma associated with mental health in society.
Mental illness adversely affects the lives of those suffering as well as those around them. People are often scared to share their plight with mental illness largely due to the way the society looks upon them. The general perception surrounding mental health issues needs to change.
This event is a great opportunity for people to share, discuss how to take care of mental health and deal with society's misconceptions.
Various stakeholders working in the mental health sector gather to talk about their experiences and help raise awareness.
The World Mental Health targets to protect and create a well-suited environment wherein people can freely, without any inhibition deal with issues related to mental health in an informed and better manner.
World Mental Health Day 2021: 3 ways we can move from 'languishing' to 'flourishing' in these times
If you're feeling uninspired, stagnant and joyless, you're not alone. A sense of languishing is one of the dominant emotions of 2021 as we navigate life in an ongoing pandemic and process other terrible world events alongside.
But although many people are struggling and these struggles are not to be ignored, the pandemic has also provided a chance to flourish — functioning well and feeling good, with a sense that life is meaningful and worthwhile, despite challenging circumstances.
Flourishing operates at the top end of the mental health continuum, with languishing at the bottom end.
A separate but related continuum relates to the experience of mental illness symptoms (from zero to severe). Key to this thinking is that mental health (languishing versus flourishing) and mental illness are independent from each other, and it is possible to flourish with mental illness symptoms and vice versa.
Recently published Stats NZ data provide an overview of New Zealanders' well-being during the pandemic and conclude:
New Zealanders have remained resilient, with most people remaining happy, healthy and satisfied with their lives, despite the challenges [of the pandemic].
For Māori in New Zealand, who generally experience disproportionate rates of poor mental health compared to other groups, recent research highlights that positive outcomes following the 2020 COVID-19 lockdown were nearly as frequent as adverse ones.
So, here are three strategies we can use to acknowledge the languishing but nevertheless move towards more experiences of flourishing.
Hold the 'and'
Holding the "and" is a psychological practice commonly used in several therapies, including dialectical behaviour therapy (DBT). At its simplest, DBT encourages a balance between opposites.
Often, when we are coping with difficult experiences we fall into a habit of "all or nothing" or "black and white" thinking and we find it hard to see the grey. Lockdowns and the Delta variant are good examples of challenges where we might find it hard to see a balance between both extremes, oscillating between thinking "things will never get back to normal" or "everything is fine".
Holding the "and" in this scenario might look like acknowledging that our normal is being disrupted right now, and knowing that we have the tools to make it through in one piece. This style will give you permission and encouragement to feel frustrated and grateful, angry with moments of calm, and cautiously optimistic while feeling scared.
Practice active acceptance
When we have some ability to influence or control a situation, active coping or problem-solving strategies are generally best. But this approach of taking charge is much less effective when we are managing in circumstances beyond our control, like the current pandemic.
Research shows a style of coping called "acceptance coping" results in significantly less distress during such times.
Importantly, acceptance isn't a passive process. It's not giving up. Rather, it's reminding ourselves "this is how things are right now". Psychologists call this helpful, active acceptance, as opposed to resigning acceptance.
Key steps to acceptance are to notice and acknowledge thoughts and feelings about a situation and then focus on what is important as we tackle the challenge. For example you may notice feeling sad, allow yourself to experience that emotion (acceptance) and then focus on something that is important for that day, for example dialling into a team meeting to check on colleagues.
Connect with others
A third strategy that helps nudge us towards flourishing is connecting with others. In our world of physical distancing, the good news is that with connection, it's quality over quantity. The benefits of being with others come largely from the emotional connection you make with another person.
Significant research has shown that experiencing frequent positive emotions (hope, joy and achievement) help people stay resilient and thrive even in times of crisis. Recent studies show co-experienced positive emotions – the good feelings you get when you really connect with someone – may be even more important than positive emotions experienced alone.
In even more compelling evidence, recent research examining more than one hundred risk factors for mental illness found that social connection was the strongest protective factor against depression. Finding ways of feeling connected with people in your bubble, as well as staying connected online with others, is one of the best strategies.
These key strategies of balance, acceptance and connection help us to move from languishing towards flourishing. Focusing on practising these skills may serve as a psychological vaccine in these pandemic times.
---
Next Story :
Hyderabad, Mar 24 (Maxim News): The sleuths of cyber Crime Police of CCS, Detective Department, Hyderabad have arrested four accused persons A-1 tarun Ojha, A-2 Guru Charan Singh, A-3 Yogendra Singh Badoria & A-4 Shahadat Ansari and also issued 41(A) notices to 8 callers in Delhi who cheated the innocent people across India on the pretext of providing loan by impersonating the reputed loan companies i.e. Reliance Capital Finance Services and seized 17 Mobile Phones, 7 Laptops and One CPU from the possession of the offenders. .

---
Now you can get latest stories from Indtoday on Telegram everyday. Click the link to subscribe. Click to follow Indtoday Facebook page and Twitter and on Instagram. For all the latest Hyderabad News updates