Aligarh Muslim University to celebrate Republic Day
Speeches by Naila Alavi (BA English) and Asif Saud (MSc) will be followed after the National Anthem.
Hyderabad, January 24 (Maxim News): Republic Day will be celebrated in the Aligarh Muslim University (AMU) on January 26 to commemorate the day when Indian constitution came into effect.
The day will be observed with festivities beginning with the hoisting of the National Flag by the Vice Chancellor, Professor Tariq Mansoor at 9: 30 am at the Strachey Hall.
He will also deliver the Republic Day speech at 9: 50 am and plant tree saplings on the occasion.
Speeches by Naila Alavi (BA English) and Asif Saud (MSc) will be followed after the National Anthem.
Later around 1: 00 pm, the Vice Chancellor will release five books at the Sir Syed Academy to mark the occasion.
They are Aligarh Muslim University: A Short Introduction, Col. Bashir Hussain Zaidi by Prof Vibha Sharma (Dept of English), Nawab Sultan Jahan Begum by Dr Sadaf Fareed (Women's College), Raja Jai Kishan Das by Sunij Kumar Sharma (Dept of English) and Sir Ross Masood by Raza Abbas (Women's College).
Meanwhile, the customary Mushaira (poetic symposium) will be held on online on January 25 from 8: 00 pm to 10: 00 pm.
It can be attended on the links, https://amuevents.webex.com/amuevents/onstage/g.php?MTID=e9ddec2bc081c208e7945655c569c4aba and
https://amuevents.webex.com/mw3300/mywebex/default.do?
Aligarh Muslim University Time capsule to be buried:
A special feature of this year's Republic Day celebrations at Aligarh Muslim University would be an online function to mark the burial of a time capsule containing a document that carries the history of the 100 year journey of the institution, an official said on Sunday.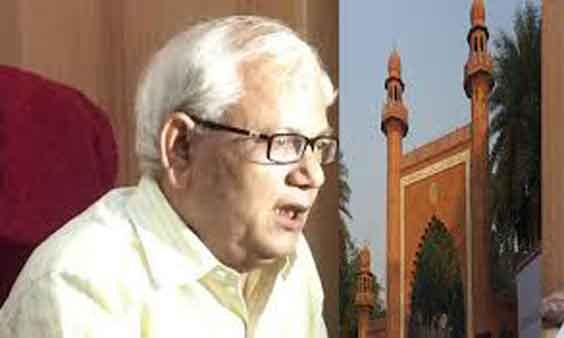 AMU spokesman Rahat Abrar said , "This document which has been prepared by a group of scholars marks the narrative of the march of this institution since it became a university in 1920.
The steel capsule which weighs 1.5 tonne would be buried at a depth of 30 feet in front of Victoria Gate, the iconic structure, which marks the heart of this historic institution." He added that the historic ceremony would be carried out by Vice Chancellor Professor Tariq Mansoor.
It was in 1877 that the original avatar of the institution came into existence as the Muslim Anglo Oriental College.
At that time too, the university had buried a similar time capsule containing the history leading to the establishment of this institute.
In 1920, the college was raised to the level of a university by an Act of Parliament.
Meanwhile, university authorities have not clarified whether there is any proposal to excavate the earlier time capsule.
Now you can get latest stories from Indtoday on Telegram everyday. Click the link to subscribe.  Click to follow Indtoday Facebook page and Twitter and on Instagram