As Revanth Reddy To Appear Before SIT In The TSPSC Paper Leak: Congress Leaders Under House Arrest
Hyderabad, March 23 (Maxim News):  As the TPCC President and MP, Revanth Reddy to appear before the SIT in the TSPSC paper leak case, Congress leaders including senior leaders Mohd Shabbir Ali, and Mallu Ravi were house arrested by the police.  
The SIT has issued notices to TPCC Chief Revanth Reddy to submit evidence on the allegations made in the TSPSC paper Leakage case.  In this order, Revanth will appear before the SIT, in this background, many Congress leaders are being house arrested by the police.  Realizing that a large number of leaders and workers are likely to come to the SIT office and if this happens, the situation will be chaotic and the police are making house arrests of Congress leaders everywhere.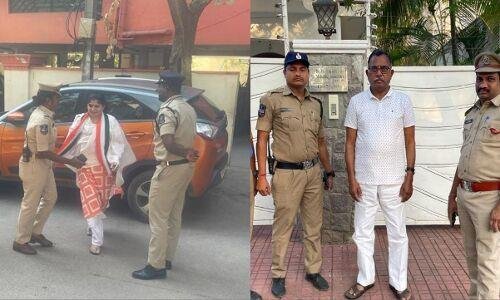 Heavy security was also arranged at the office of the SIT.  However, the Congress leaders were furious that the government, which should provide reassurance to the students who are worried about the TSPSC paper leakage, is trying to mute the voice of the opposition who are talking about this issue.   Congress found fault with SIT notices to the opposition.  (Maxim News) 
---
Next Story :
The Hyderabad Central Crime Station police nabbed three persons on charges of cheating people in the guise of Multi-level Marketing (MLM) schemes, in separate incidents here on Tuesday.

---

Union Home Minister Amit Shah, who had already held a half a dozen meetings since his arrival in violence-hit Manipur on Monday night, on Tuesday visited Churachandpur, one of the districts severely affected by the ethnic violence that ravaged the state since May 3, leaving at least 75 dead and over 300 injured.

---

The Jubilee Hills police solved the armed robbery case of a pregnant woman by holding her hostage which was reported earlier this month, and arrested one person on Tuesday. Cash of Rs.9.5 lakh and a knife was recovered.

---
Now you can get the latest stories from Indtoday on Telegram every day. Click the link to subscribe. Click to follow Indtoday's Facebook page and Twitter and Instagram. For all the latest Hyderabad News updates