Domestic violence is not just confined lower-income groups
Domestic violence is not just confined to the uneducated and lower-income groups of the society but also prevails in affluent families: Mrs. Adilakshmi Kancherla, wife of Dr. K. RavindranathKancherla, who filed an FIR for attempting to murder her
Punish Dr. Ravindranath, a serial abuser, habitual wife beater: Mrs. Adilakshmi
How can companies keep a wife abuser, a violator of Human Rights, as a Director on the board…Oust him she demands
Hyderabad, August 5, (Maxim News): There is a general belief in society that domestic violence, wife abuse, exploitation, breach of trust are issues of uneducated and lower-income groups.
You will be shocked to see Domestic Violence prevalent in elite families in the twin cities of Hyderabad and Secunderabad as well.
Here's one case that depicts the plight of women in affluent families where a woman is chronically abused by a highly educated Doctor (Surgical Gastroenterologist).
We're talking of Adilakshmi Kancherla, daughter of late Lagadapati Amarappa Naidu after whom the LANCÔ group is named and wife of Dr. Ravindranath Kancherla, CMD of Global Hospitals.
For 41 years, Adilakshmi Kancherla lived as Dr. Ravindranath's wife bearing his physical assaults and mental torture because she believed in their marriage. She hoped he would change as they got old together.
But, there was no change and his insane and inhuman behavior became intolerable.
Today, at 58, just because she refused to sign legal documents without reading them, she gets thrown out of the house she painstakingly built; mercilessly beaten and bruised just because she didn't follow his orders.
If this can happen to a woman in this day and age, to a woman who is a doctor's wife and a millionaire's daughter, imagine the plight of countless others!
It is more than two months since FIR was filed on this wife abuser, Dr. Ravindranath Kancherla; and he is still continuing on the board of many reputed companies like Gleneagles GH, Penna Cement Industries, Laurus Labs etc.
Meanwhile, Mrs. Adilakshmi's domestic violence case is being discussed, debated across the country ever since she filed an FIR, and approached National Commission for Women (NCW) in July. And her fight against her husband has got wide support from unknown quarters. Many men, women and social activists, globally, are actively supporting her.
The hashtags created for this cause – #JusticeForAdilakshmi and #OustRavindranath are trending. Her crusade reached out to 20,000 netizens.
Seeing this Dr. Ravindranath is back to his old tactics, sending Adilakshmi messages and mediators to stop this. These are his old tactics.
"I was fooled by him many times in the past. I will pursue my fight till the time he is punished," she says.
Domestic Violence Cases:
The background of the case is as follows.
The former CMD of Gleneagles Global hospital Dr K Ravindranath has been accused of an attempt to murder his wife Adilakshmi on June 2nd, 2021 at Hyderabad. Adilakshmi, 58 years old, escaped the assault and filed an FIR under sections IPC 307 and 498. On that day he approached her to sign a few legal documents, which she refused and said she would do so after reading them.
He verbally abused her and got furious, uncontrollable, for not obeying his orders. He broke her phone and started physically assaulting her. He broke her fingers, pushed her to the ground and kicked her abdomen and chest. He tried to strangle her while she begged him to stop.
That is when Mrs. Adilakshmi managed to escape and ran out of her residence. Took help from her daughter and her husband and filed an FIR at Jubilee Hills Police station. She suffered grievous injuries to her fingers, abdomen and neck. She has undergone surgery for a fractured finger at Apollo hospital. She has a fractured rib and currently suffers from Post-Traumatic Stress Disorder (PTSD) – a psychiatric disorder. Doctors say that this is because of the traumatic incidentthat she has experienced.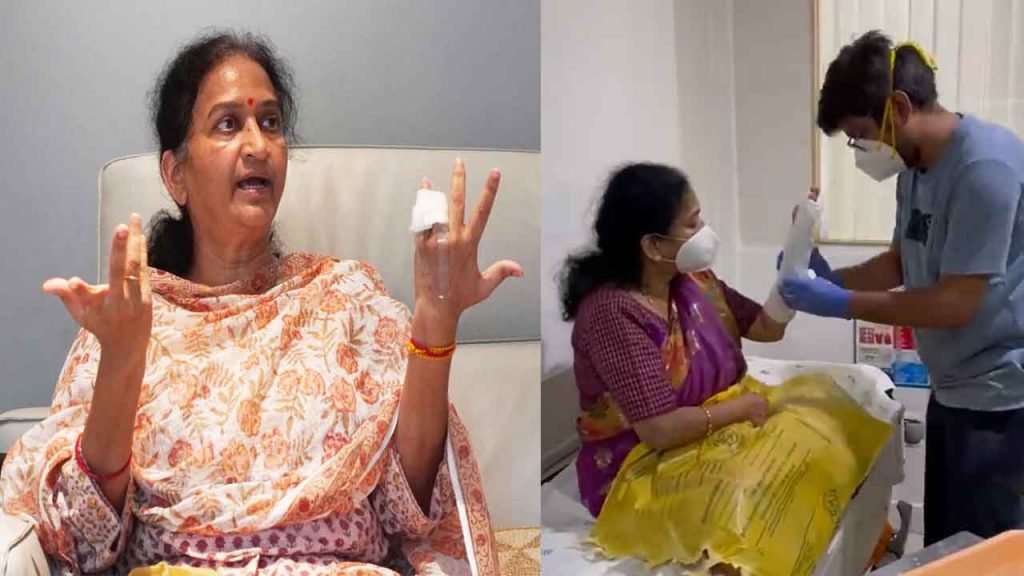 Post the filing of FIR, Mrs. Adilaksmi is being subjected to a tremendous amount of pressure from Politicians, Bureaucrats and Businessmen(friends of Ravindranath); forcing her to settle the matter internally and drop the FIR. Also, death threats are being made against her and other family members whoever has been helping her.
Dr. Rabindranath is a serial abuser, he abused several times in the past both verbally and physically whenever his wife questioned him about his extramarital affairs and financial discrepancies. He is said to have many affairs and continues even today.
The serial abuser who violently attacked his life partner is shameful and shocking. But unfortunately, her plight is not highlighted much as he manages with his connections.
Mrs. Adilakshmi requests all Doctors Associations, General Public and Women's Rights activists to voice out this issue to get her justice. She doesn't want to commit suicide, though at one stage she developed such tendencies.
"I will fight it out till justice is met. I will do so not just for me but for all other women who have been suffering in silence," she says. She wants to spend her life peacefully doing social service.
Adilakshmi who was thrown out of the house just with the clothes she wore, is now shelter-less and is staying with her daughter.
She has just 2 demands:
Justice. She wants her husband Dr. Ravindranath to be punished.
No place for women beaters on the boards of corporate houses. No company should keep a wife abuser, human rights violator as a Director. She wants those companies to oust him immediately.
The final word- "Let no woman suffer like me for so long," she says.
This fight is not just for her but for all the women, who like her are suffering and unable to come out.
Now you can get latest stories from Indtoday on Telegram everyday. Click the link to subscribe.  Click to follow Indtoday Facebook page and Twitter and on Instagram