Kishan Reddy Alleged CM KCR for Diverting Central allotted funds For GP
Hyderabad, Jan 5 (Maxim News): Union Minister for Culture and Tourism, G.Kishan Reddy criticized the Chief Minister K.Chandrasekhar Rao government alleging that the Central funds meant for the Gram Panchayats development were diverted by the State within an hour through the digital key.
Speaking to press persons, he said that due to KCR's stubborn attitude, there is a situation in the state where salaries cannot be paid to government employees. He criticized the non-implementation of welfare schemes meant for the poor. They said that they are preparing to sell the land due to a lack of funds to repair the roads.
He expressed anger that the State government has not released the scholarships of the students belonging to the SC, ST, BC, and Minorities. He said that due to chaotic economic policies, the state has become bankrupt. He alleged that the TRS leaders in the state are exploiting the resources arbitrarily. In Telangana, KCR is ruling like a dictator.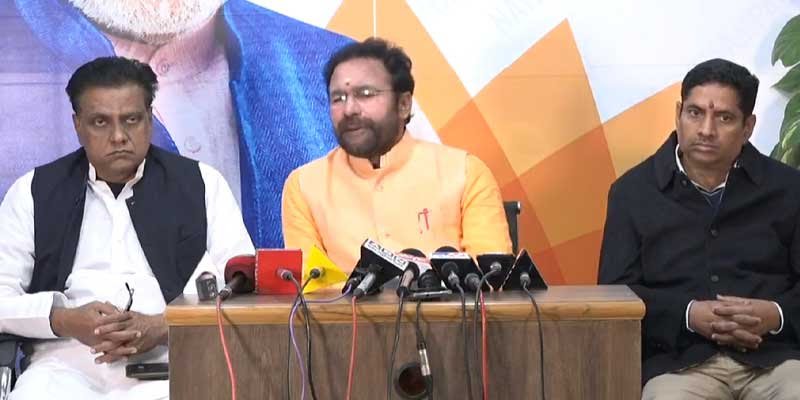 The Union Minister said that petrol and diesel prices are higher in Telangana than in other states. He said that the state government is charging an additional Rs. 13 per liter on petrol. He alleged that the VAT on diesel was 22 percent, it was increased to 27 percent in Telangana. He said that oil companies have not increased prices despite losses. He said that Prime Minister Narendra Modi took strong measures to avoid burdening the common man despite the increase in petroleum products during the war between Russia and Ukraine. (Maxim News)
---
News Articles:
Nalgonda MP Capt N. Uttam Kumar Reddy clarified that Nirav Modi and Lalit Modi do not belong to the BC community, refuting the false claims made by the BJP. He expressed astonishment at the BJP's attempts to garner sympathy for the two notorious scamsters by wrongly associating them with the BC community.

---
Now you can get the latest stories from Indtoday on Telegram every day. Click the link to subscribe.  Click to follow Indtoday's Facebook page and Twitter and Instagram. For all the latest Hyderabad News updates