Hyderabad: In view of the prevailing situation in the country in which the communal forces BJP and RSS have become a threat to the secular parties and leaders, Minister for Home, Mohd. Mahmood Ali has appealed to the people to support and strengthen the most scholarly leader Chief Minister K.Chandrasekhar Rao.
On the occasion of the inauguration of Masjid-e-Talib Aziz in Shankarpalli, the Minister addressing the meeting said that the Mosque is the house of Allah, and whoever constructs the House of Allah on earth, Allah will reward him with a beautiful house in Paradise, he said to our Chief Minister KCR Allah will shower with all, who is working for the development and welfare of the Muslims, he said Allah will give KCR with health and strength to serve the people of the state and the country.
He requested the people not be trapped or influenced by some communal forces and their leader which would cause a threat to the secular forces. Mahmood Ali has listed the various schemes which have been taken up by the KCR government for the development and welfare of the minorities, he said that the KCR government has taken care of the Mosques and funds are being provided for the reconstructions and repairs of Mosques and Dargah. A monthly stipend of Rs. 5000 is being given to the Muezzans and Imams, this type of scheme is being implemented only in the Telangana state under KCR. Apart from this several schemes have been implemented for the welfare of Muslims. he appealed to the people to support the BRS party in upholding the Ganga Jamuni Tehzeeb and promoting peace and tranquility in Telangana as KCR is a secular leader who is more concerned with the development of Muslims. He urged the people to observe prayers at Mosques.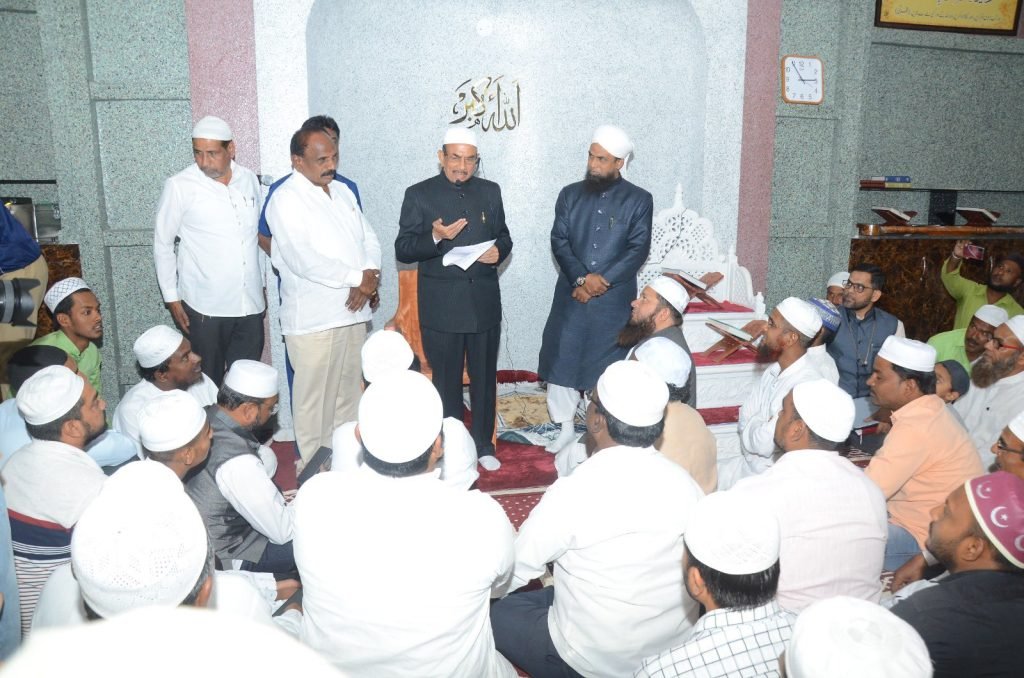 Chevella MLA Kale Yadiya, President of Mosque Rahmat Khan, Members of the Mosques Committee Zakir, Mirza Quddus Baig, Muhammad Naeem, Baig Sahib, Mohammad Salim, Mirza Amir Baig, and others participated.
Earlier, Mohd Mahmood Ali participated in the Ramadan Reception meeting organised under the Chairmanship of Danam nagender at Banjara lake View Function Hall, he offered advance greetings of Ramadan to the world of Islam. He said that facilities will be provided by the Telangana government this year during Ramadan, he said that instructions have been issued to the departments of electricity, water, municipality, health, police, and fire to make relevant arrangements and provide facilities to the fasting people.
In this meeting, Corporators Munne Kavita, and Sangeeta Gupta, Religious scholars, Imams, Muezzins, heads of mosques, political leaders, and others participated. (Maxim News)
---
Next Story :
Union Home Minister Amit Shah, who had already held a half a dozen meetings since his arrival in violence-hit Manipur on Monday night, on Tuesday visited Churachandpur, one of the districts severely affected by the ethnic violence that ravaged the state since May 3, leaving at least 75 dead and over 300 injured.

---
Now you can get the latest stories from Indtoday on Telegram every day. Click the link to subscribe. Click to follow Indtoday's Facebook page and Twitter and Instagram. For all the latest Hyderabad News updates