Hyderabad, July 22 (Maxim News): The Nirmal district of the State has been inundated with flood waters . The irrigation projects from the district like Swarna, Kadem and Bhainsa are brimming with water due to the rainfall. The authorities have opened six gates of Swarna irrigation project .
The average rainfall in the district was 146 mm. Narsapur (G) mandal registered the highest rainfall of 245 mm, followed by Kuntala mandal at 211 mm, Mudhole, Bhainsa, Lokeshwaram, Sarangapur, Tanur, Nirmal, Laxmanachanda, Nirmal Rural, Mamada mandals between 110 and 180 mm.
The GNR Colony of Siddapur of the district headquarters has been inundated with water due to the rains. The residents of the area have waited for the help of the authorities concerned. They have climbed up to the top of their hours and waited for the government help.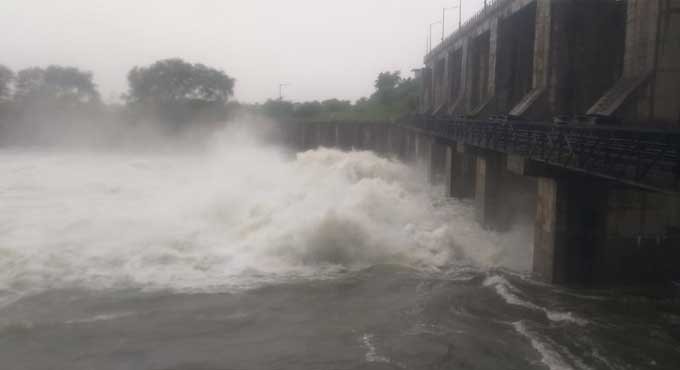 The rainfall in the district since June 1 was 661 mm against the normal of 414 mm, indicating 59 per cent excess rainfall for the period. As many as 13 mandals received large excess rainfall, and irrigation projects were brimming with water.
Kadam Narayana Reddy Project received inflows by 1.96 lakh cusecs following heavy rainfall in catchment areas. The water storage level reached 6.671 tmcs against its gross storage capacity of 7.600 tmc. A total of 13 crest gates were lifted to discharge surplus water of 1.49 lakh cusecs downstream. Irrigation officials cautioned farmers not to graze cattle downstream.
Swarna Project in Sarangapur registered inflows of 69,500 cusecs, resulting in water storage touching its total storage capacity of 1.484 tmcs. Gaddennavagu project in Bhainsa mandal had inflows of 38,500 cusecs. As a result, the water storage reached 1.671 tmcs against its gross storage capacity of 1.852 tmcs.
On knowing about the problem of the victims, the district collector Musharaff al Farooqui and the district incharge sp Praveen Kumar reached the spot and took steps for shifting the victims to safe places. On the other hand, the CM KCR held a review meeting on the issue and asked officials to take steps to help the needy. (Maxim News)
Now you can get latest stories from Indtoday on Telegram everyday. Click the link to subscribe.  Click to follow Indtoday Facebook page and Twitter and on Instagram