SYDNEY — A tsunami warning for parts of New Zealand was lifted on Friday afternoon, hours after officials had told residents of coastal areas to evacuate in the wake of an 8.1-magnitude earthquake in the South Pacific.
A report of the New York Times says that the earthquake was recorded early Friday morning near the Kermadec Islands, which are between Tonga and New Zealand's North Island, according to the U.S. Geological Survey.
Alarm going off on the Hokianga Harbour, Northern West Coast. My friends are evacuating up the hill. Good call. pic.twitter.com/ONWieUXg9O

— Brian Holland (@brianholland) March 4, 2021
The Pacific Tsunami Warning Center urged the public in the region to be vigilant and to closely monitor the situation, saying that "tsunami waves have been observed."
At 1:15 p.m. local time, the National Emergency Management Agency in New Zealand told residents who had earlier evacuated that it was safe to return to their homes. It said that the "largest waves have now passed."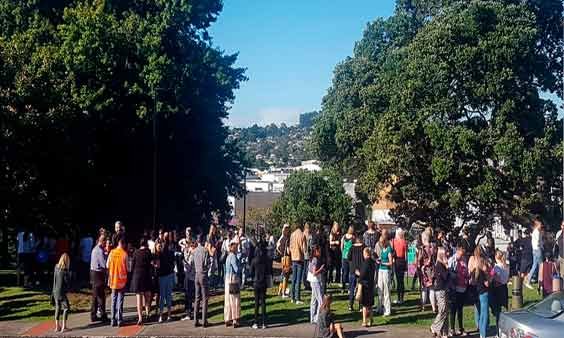 Following evacuation orders and warnings to move away from the coast, thousands of New Zealanders fled to higher ground, walking, driving and riding bicycles.
Ok Auckland. As you were. Back to Level 3 everyone! pic.twitter.com/lss8K7uvnW

— Brian Holland (@brianholland) March 5, 2021
Several towns near the country's northern coast emptied out within a few hours of tsunami warnings via sirens or text messages from the government.
BREAKING VIDEO: Very first waves of Tsunami rolling at Tokomaru Bay, New Zealand: WATCH:#Tsunami #earthquake #Newzealand pic.twitter.com/ENxVdJbeTu

— Insider Paper (@TheInsiderPaper) March 4, 2021
"This has been a dynamic event that is constantly evolving," Emergency Management Minister Kiri Allan said at a news conference on Friday. "People have done the right things in the region by picking up, packing up and by and large staying calm."
#BREAKING: People evacuated to higher ground in American Samoa (Utulei) due to #Tsunami warning after massive earthquake around New Zealand. First wave expected at 10:19 AM.#NewZealand pic.twitter.com/CTQZ1c46rO

— Newsistaan (@newsistaan) March 4, 2021
Now you can get latest stories from Indtoday on Telegram everyday. Click the link to subscribe.  Click to follow Indtoday Facebook page and Twitter and on Instagram