Vice-Presidential Poll: PM Modi, Sonia Gandhi cast their vote
Live polling updates for the 2022 Vice-Presidential Poll: Members of both Houses of Parliament will vote on Saturday to choose the next vice president of India because the current vice president, M Venkaiah Naidu, will finish his tenure on August 10. On Saturday, Congressman Manmohan Singh, Home Minister Amit Shah, and Prime Minister Narendra Modi were all spotted voting at the Parliament Building. While Margaret Alva has been nominated by opposition parties, the National Democratic Alliance (NDA) has named West Bengal Governor Jagdeep Dhankhar as their vice presidential candidate. At Parliament House in New Delhi, voting for the new vice president of India started at 10 am and will last until 5 pm, at which point vote tallying will start.
The Electoral College for the 16th Vice-Presidential election is made up of 788 people: 233 elected Rajya Sabha members, 12 nominated Rajya Sabha members, and 543 elected Lok Sabha members. Regional parties including the Janata Dal (United), YSRCP, BSP, AIADMK, and Shiv Sena are backing Dhankhar, who is expected to win with more than 515 votes. With the support of the Aam Aadmi Party (AAP), Jharkhand Mukti Morcha (JMM), and Telangana Rashtra Samithi, Alva is projected to receive more than 200 votes (TRS). Evidently, there is another another division within the opposition. The Trinamool Congress (TMC), which has 39 representatives in both Houses of Parliament and is the second-largest opposition party after the Congress, has chosen to abstain from the vote. It remains to be seen if cross-voting, which occurred during the Presidential election last month, would once again hurt the opposition.
IN PICTURES:
14:42pm MPs cast their votes to elect India's next Vice-President: See Pictures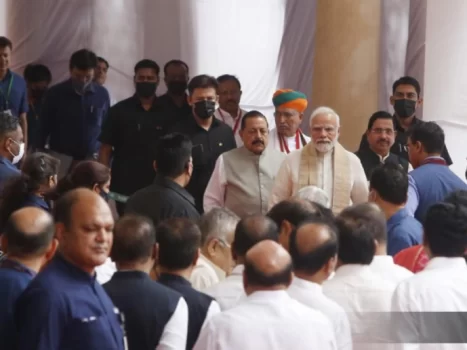 12:52pm Congress president Sonia Gandhi arrives at Parliament House to cast her vote
In a brand-new video message before the election, Alva stated: "Independent of their parties, MPs must find ways to mend damaged relationships and open lines of communication if they want Parliament to work properly. The MPs are ultimately responsible for shaping the nature of our Parliament."
In addition, the Vice President chairs the Rajya Sabha. There are 788 members of both Houses of Parliament in the electoral college for the vice presidential race.
The Vice-Presidential election solely takes place at Parliament House, as opposed to the Presidential election, which is held in numerous venues because elected MLAs who are not nominated also make up the electoral college.
The Election Commission has stated that as every elector is a member of both Houses of Parliament, the value of each MP's vote is equal to one.
---
Hyderabad, March 12 (Maxim News): Municipal Administration & Urban Development Minister K Taraka Ramarao today said they have launched Strategic Nala Development Program (SNDP) to develop the drain systems and all the drains in the city. He said they had taken up 60 drain development works at a cost of ₹985.45 crore and added that […]

---
Now you can get latest stories from Indtoday on Telegram everyday. Click the link to subscribe. Click to follow Indtoday Facebook page and Twitter and on Instagram. For all the latest Hyderabad News updates