AIMIM Continues Its Sway: Cannot Be Defeated In Its Stronghold In Coming Assembly Elections
Hyderabad, Jan 29 (Maxim News): The All India Majlis-e-Ittehadul Muslimeen (AIMIM) seems to continue its sway in the seven Assembly seats it currently holds in the coming Telangana Assembly elections.
Going by the past record and the voting, the party appears to be unbeatable in the Muslim-majority constituencies covering the old city of Hyderabad.
Like in the past, the AIMIM began its campaign ahead of other parties, for the last few days, party President Asaduddin Owaisi has been addressing public meetings with the title "jalsa-e-Halat-e-Hazera" on current affairs to build the tempo. He appealed to the people to remain united and protect the political platform so that the AIMIM continue to raise their voice in the legislature and fight to resolve their problems.
OWAISI CONFIDENT OF BJP WILL NEVER COME TO POWER IN TELANGANA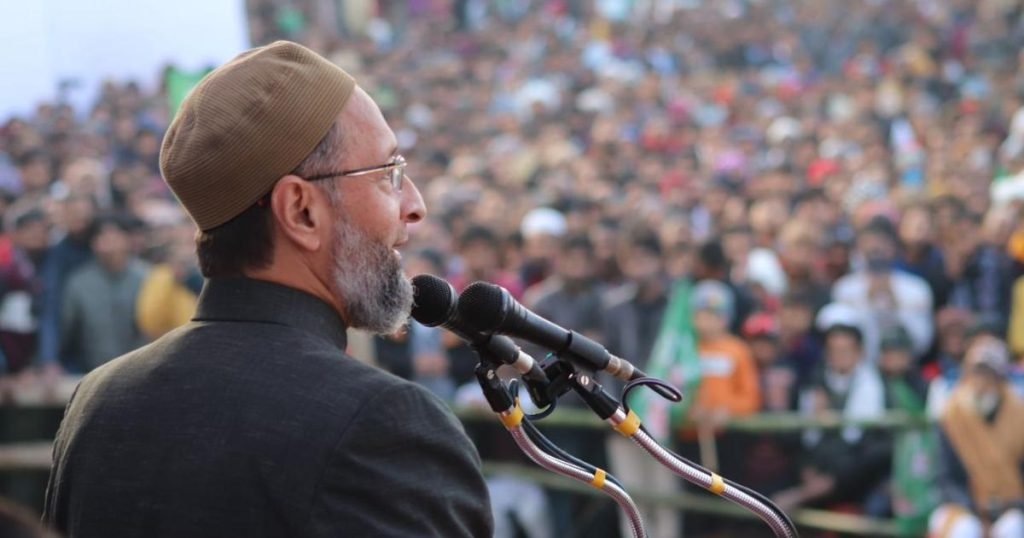 Asaduddin Owaisi is confident that the BJP will never be able to come to power in Telangana. "our Hindu brothers from the Dalit community and backward classes want peace and communal harmony to prevail in Telangana, he said while addressing such meetings. The AIMIM in Hyderabad politics has been in domination for over four decades its stronghold remained immune to the political waves and change of guard in the state. It is often said all political waves stop at Nayaput, one of the bridges across the Musi river which connects old Hyderabad to the rest of the city. No matter which party came to power in Telangana the support base of Owaisi's party remained intact. The adapted itself to the new political scenario dominated by the TRS turned BRS.
While maintaining its firm grip over the Hyderabad Lok Sabha constituency and the seven Muslim Majority Assembly segments in the city, AIMIMbacked the TRS in the rest of the state in both the 2014 and 2019 elections.
This friendship and the secular image of Chief Minister K. Chandrasekhar Rao helped the TRS secure the support of the Muslims who constitute about 12 percent of the state's 4 crore population.
With a huge concentration of Muslim voters in the state capital Hyderabad and some other districts, AIMIM is in a position to tilt the balance in nearly half of the 119 Assembly constituencies. Muslim voters are believed to be between 35 to 60 percent in 10 constituencies in Hyderabad and anywhere between 10 to 40 percent in 50 other constituencies spread across the rest of the state. Except for the eight Assembly constituencies where AIMIM candidates were in the fray, the party backed TRs in all the remaining constituencies.
While the AIMIM's political opponents accuse the party of pursuing communal politics, KCR on many occasions defended his friend and Hyderabad MP Asaduddin Owaisi. he lauded the AIMIM chief for fighting for the Constitutional rights of Muslims in a democratic manner.
The BJP, which is going aggressively to capture power in Telangana, has been targeting KCR for his friendship with Owaisi and accusing the TRS leader of pursuing the politics of appeasement. (Maxim News)
---
Next Story :
New Covid cases recorded 3,016 in 24 hours, this is a 40 percent jump in a single. The daily positivity rate has been recorded at 2.7 percent and the weekly positivity rate at 1.71 percent, according to the Union Health Ministry data.

---

The Rajiv Swagruha Corporation is allotting available flats at Bandlaguda and Pocharam Township through a lottery in Phase-IV. The last date for submission of token advance Demand Drafts (DDs) has been extended to April 15.

---

As political parties, including the key players BJP, Congress, and Janata Dal (Secular), AIMIM have geared up for the May 10 Assembly elections in Karnataka, the issues that are expected to the among the top campaign material are Muslim Reservation, Polarisation, and Corruption.

---
Now you can get latest stories from Indtoday on Telegram everyday. Click the link to subscribe. Click to follow Indtoday Facebook page and Twitter and on Instagram. For all the latest Hyderabad News updates