Bandi Sanjay and family visits Bhagya Lakshmi temple
Hyderabad, Oct.3 (Maxim News): Today morning Bandi Sanjay couple make the Darshan of Bagya Lakshmi goddess at old City in Hyderabad. Bandi Sanjay couple receiving blessings from Goddess amidst Vedic chanting by Bhagyalakshmi temple priests.
With the blessings of Goddess, the Praja sangrama yatra was a success amidst the influx of people in a peaceful atmosphere
Bandy Sanjay announces that all the workers along with him ready to fulfill their responsibilities again if the goddess hand over the responsibilities.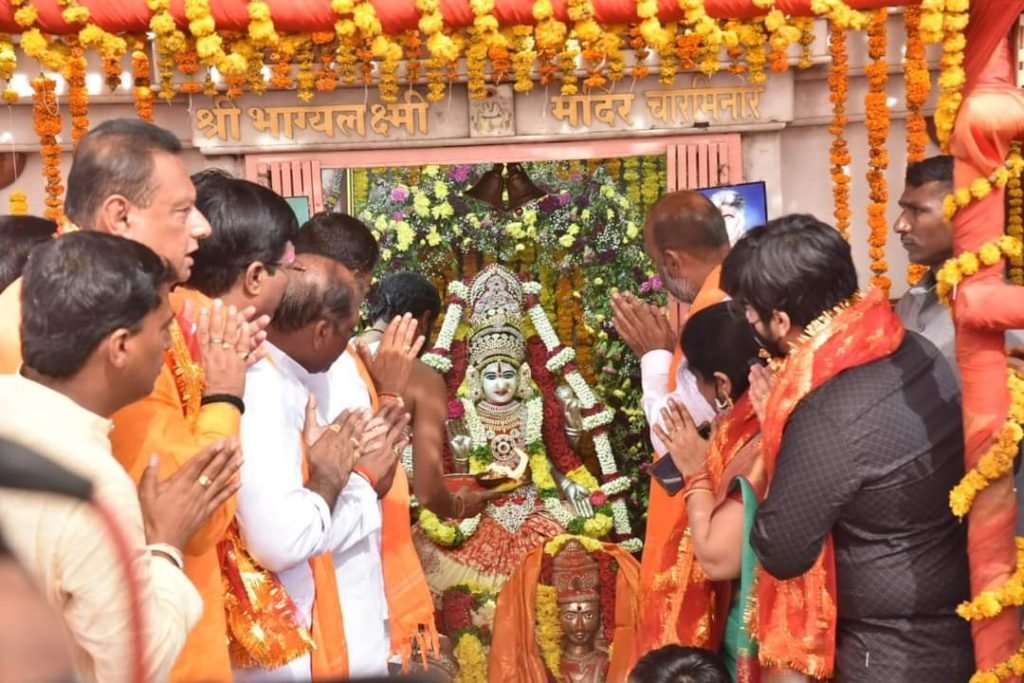 State President of the BJP, MP Bandi Sanjay Kumar today visited Sri Bhagyalakshmi Goddess Temple in old City in the wake of the success of the first phase praja sangrama yatra launched by the BJP state unit. Bandi Sanjay,who arrived with his wife at 8.30 am, conducted special pujas at the temple. The temple priests were blessed with Vedic chants. Dr. G. Manohar Reddy, Padayatra leader Dr. G. Virender Goud, Rakesh Reddy, spokesperson Bandi Sanjay specially called the Sangrama Sena and accompanied them on the steps of the Praja Sangrama Yatra.
BJP activists gives a hearty welcome to Bandi Sanjay and his wife in old City after successfully completed the padayatra and entered old City.Flowers rained down. "Jai BJP, Jai Bandi Sanjay" was the slogan.
Bandi Sanjay spoke to media after Bhagyalakshmi."On August 28, with the blessings of my mother, the public campaign was successful. BJP activists along with me fulfilled the responsibilities By the grace of Bhagyalakshmi goddess I completed the padayatra amidst the calm public flow without any trouble. Including me BJP workers, are ready to fulfill my responsibilities if the goddess hand over the responsibilities again, "he said.
We will make BJP win in Huzurabad elections. Therefore, as we leave Huzurabad, we will go to door to door in the Huzurabad elections with the slogan "Let's tie the knot – let's win the Lotus Party" and ask the people to win the BJP.
Later, Bandi Sanjay Kumar left for Huzurabad with BJP state general secretary Gujjula Premender Reddy. With the slogans "Let's tie the knot – let's win the Lotus Party" and "Let's knock on the door – Let's ask the BJP to vote", Bandi Sanjay tightened his belt to get all the party workers back home to campaigning in the Huzurabad by-election.
As part of that, Bandi Sanjay will have a special meeting with activists in Huzurabad constituency this afternoon.(Maxim News)
Now you can get latest stories from Indtoday on Telegram everyday. Click the link to subscribe. Click to follow Indtoday Facebook page and Twitter and on Instagram. For all the latest Hyderabad News updates