Each citizen of Telangana has a debt of over Rs 1 lakh due to KCR misrule: Uttam
KCR | Congress MP & former TPCC President Capt. N. Uttam Kumar Reddy has accused Chief Minister K. Chandrashekhar Rao of transforming Telangana into a bankrupt State while increasing the Per Capita Debt by almost five times.
Addressing a press conference in New Delhi, Uttam Kumar Reddy said that Union Finance Minister Nirmala Sitharaman, in a written reply to a question raised in the Lok Sabha on Monday, revealed that some States had by-passed the Net Borrowing Ceiling (NBC) by borrowings loans from certain State Public Sector companies, Special Purpose vehicles (SPVs) and other equivalent instruments, where the principal and/or interest are to be serviced out of the State Budgets. He said that the Union Finance Minister has also shared the State-wise details of total outstanding liabilities of State Governments compiled by the Reserve Bank of India (RBI).
"Telangana State had inherited debts of Rs. 69,000 crores at the time of its formation in 2014. Those borrowings or outstanding liabilities were accumulated in 60 years. However, KCR Govt has increased those debts to Rs. 3,12,191 crore in just 7-8 years. As per the RBI report, the total outstanding liabilities of Telangana increased to Rs. 72,658.10 Crore in 2015, Rs. 90,523.4 Cr in 2016; Rs. 81,820.9 Cr in 2017; Rs. 160,296.3 Cr in 2018; Rs. 190,202.7 Cr in 2019; Rs. 225,418.0 Cr in 2020; Rs. 267,530.7 Cr in 2021 and to Rs. 312,191.3 Cr in 2022," he said.
KCR has made Telangana a bankrupt State
He said Telangana's debts were much higher compared to other States of equal size like Odisha or Chhattisgarh. As against Telangana's overall debts of Rs. 3.12 lakh crore, Odisha has debts of Rs. 1.67 lakh crore while Chhattisgarh's outstanding liabilities stand at just Rs. 1.14 lakh crore. Even a large State like Madhya Pradesh has debts of Rs. 3.17 lakh crore, which is less than Telangana.
Uttam Kumar Reddy said that the Per Capita Debt of Telangana at the time of its formation was about Rs. 18,157. With Telangana's outstanding liabilities increasing to Rs. 312,191 Crore, the Per Capita Debt has increased by almost five times to Rs. 82,155. "If we also take into account the loans procured through various Public Sector companies, Special Purpose vehicles (SPVs) and other equivalent instruments of the State Govt, then the overall debts of Telangana stand at more than Rs. 4 Lakh crore. This takes the Per Capita Debt to over Rs. 1 lakh," he said.
He said that the TRS Govt did not utilise the borrowings for productive purposes. He said thousands of crores were borrowed on huge interest and spent on projects which did not give desired results. Quoting an observation from the report of the 15th Finance Commission, he said that "the huge investments made in irrigation have not yet resulted in commensurate returns in terms of crop yield improvements."
The Congress MP said that KCR Govt has been cheating the people of Telangana, the RBI and also the borrowing institutions by using inflated growth figures. He said that the Comptroller General of India (CAG) has pointed out several times that the Telangana Govt was showing loans as revenue. This was also noted by the 15th Finance Commission in its latest report.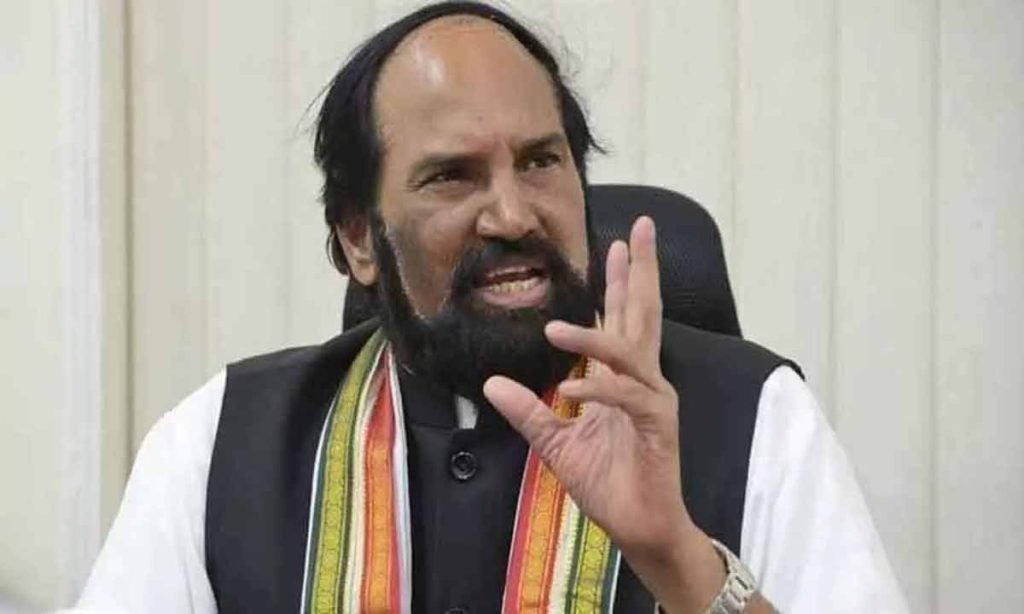 Uttam Kumar Reddy said that the misgovernance of CM KCR has ruined the entire economy of Telangana. Today, the situation has turned so worse, that the State Government has no money to pay salaries and pensions on time. Further, TRS Govt has no money to clear Fee Reimbursement dues, Aarogyasri due or loans to women SHGs. (Maxim News)
---
Now you can get latest stories from Indtoday on Telegram everyday. Click the link to subscribe. Click to follow Indtoday Facebook page and Twitter and on Instagram. For all the latest Hyderabad News updates