Hyderabad, Sept. 19: The famous Khairatabad Ganesh idol procession started on Sunday morning, and the Hyderabad is all set to witness large-scale immersions of Ganesha idols on Sunday.
The Khairatabad Ganesh organizers have put Ganesha Idol on a specially designed trolley and started the event in grand style. The idol was loaded on a trolley brought from Vijayawada and the welding works were completed till morning.
The procession will be carried out from Khairatabad to Hussain Sagar and will be immersed at Crane No. 4.
Meanwhile, the police have set up heavy security for the ongoing large-scale immersion of idols in the city, 21,000 police personnel will be ensuring security with Telangana State Special Police, Quick Response Teams and Rapid Action Force teams also to be deployed, with officials already making arrangements at Tank Bund and other spots with cranes with specific numbers allotted for each major idol.
Similar arrangements are in place at various locations in Rachakonda and Cyberabad too. While there will be 6,500 personnel on duty in Cyberabad, which has 35 important lakes, Rachakonda will have about 5,000 personnel for 24 points. Apart from these, 215 Ganesh Action Teams comprising 8,116 workers will be deployed along procession routes.
The State government is deploying 330 cranes across the GHMC limits, 40 of them at Hussain Sagar.
30,000 Idols:
Around 30,000 idols are expected to be immersed in the Hussain Sagar alone by Monday, with the police banning flying drones and continuously doing anti-sabotage checks all along the main procession route and bylanes.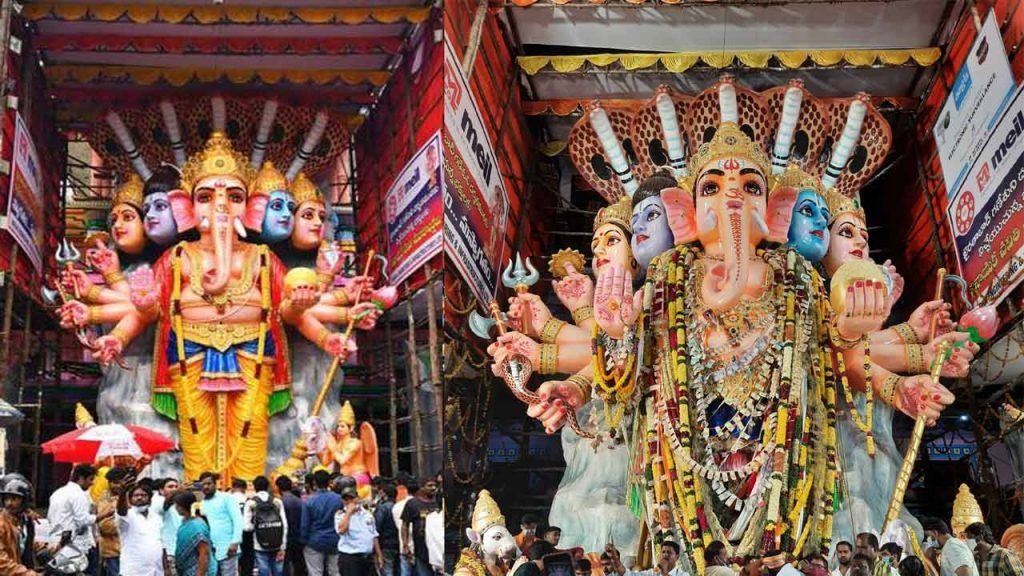 The Hyderabad Metro Rail will be operating trains late into the night, while the South Central Railway has announced restoration of eight MMTS train services to clear the extra rush on Sunday.
There will be traffic restrictions all across Hyderabad on Sunday, with the curbs expected to extend late into the night or till the immersion is completed.
On the other hand, the procession of Balapur Ganesh continued amidst the bhajan group songs and drumbeats.
After the procession, a laddu auction has been held wherein Marri Shashank Reddy has bagged the Balapur Ganesh laddu for Rs. 18,90,000.
Now you can get latest stories from Indtoday on Telegram everyday. Click the link to subscribe. Click to follow Indtoday Facebook page and Twitter and on Instagram