Pay compensation to paddy farmers for alternate crops: Congress
Hyderabad, Oct.30 (Maxim News): Paddy Farmers | Former Minister Mohammed Ali Shabbir on Saturday demanded that the State Government restrain from using coercive and illegal means to stop farmers from cultivating paddy crops.
"Chief Minister K. Chandrashekhar Rao must persuade the Central Government to direct the Food Corporation of India (FCI) to withdraw its reported order of not procuring paddy in the Yasangi season. He should take an all-party delegation to Delhi to pressurise the Centre. Instead of using intimidating tactics against farmers, the State Govt must explore alternate means to procure paddy," Shabbir Ali demanded in a media statement today.
Shabbir Ali pointed out that the farmers earn more profits by cultivating paddy compared to other crops. He said farmers earn about Rs. 58,200 per acre if they get an average yield of 30 quintals and sell it at the MSP of Rs. 1940. After reducing the input cost of nearly Rs. 27,000, the paddy farmers make a profit of about Rs. 31,200 per acre. The profit margins may increase or decrease depending upon the quality and quantity of yield and also the market conditions. Farmers do not make similar earnings if they opt for other crops, he said.
Paddy Farmers
"The State Government should announce a package to ensure that the earnings of farmers do not get affected irrespective of what alternate crops they are forced to grow in present circumstances. CM KCR cannot push the farmers into an economic crisis by asking them to shun the paddy cultivation," he said.
The Congress leader said that a majority of farmers do not want to cultivate alternative crops like cotton or sesame because they are more labor-intensive and need huge mechanisation. Further, cotton cannot be raised during the Rabi season. Therefore, he said the State Government should come up with scientific and practical solutions instead of enforcing a 'regulated cropping system'.
Ali also questioned the rationale behind the State Government aiming for zero paddy cultivation in view of the FCI's decision. He said as against the estimated paddy production of 1.35 crore tonnes, the FCI has reportedly decided to procure only 59 lakh tonnes. Therefore, zero paddy cultivation might create problems in meeting the domestic requirement next year. The State Government must devise a formula to compensate the farmers for the reduction in paddy cultivation besides providing MSP for alternate crops, he demanded.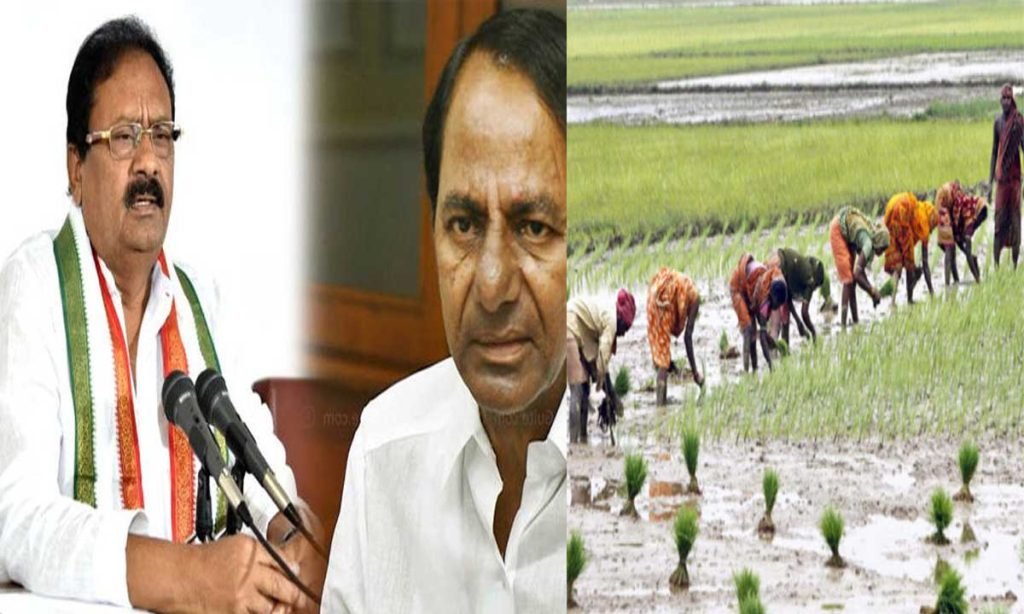 He said that the State Government should not react to situations in a haphazard manner. As per the Agriculture Action Plan 2021-22 released by the State Government itself in August this year, it was planned to take up paddy cultivation in about 41.85 lakh acres. The State Govt cannot drop this entire plan based on a decision taken by the FCI. "BJP Govt at the Centre and TRS Govt in Telangana are not serious about farmers' welfare. They are creating situations to force farmers to adopt regulated farming and surrender themselves to big corporates. They are creating one or the other problem to target farmers' revenue. The Congress party will expose their conspiracies and will fight to protect the rights and interests of farmers," he said. (Maxim News)
---
Next Story:
YSRTP President, Y.S Sharmila has questioned the Chief Minister K.Chandrasekhar Rao to explain "Why the Constitution written by Dr. B.R. Ambedkar Should be changed and re-write" and also raised the question on KCR's intention.

---

Now you can get latest stories from Indtoday on Telegram everyday. Click the link to subscribe. Click to follow Indtoday Facebook page and Twitter and on Instagram. For all the latest Hyderabad News updates