Hyderabad, February 22: The Congress government in Puducherry is going to a floor test today ordered by Lieutenant Governor Tamilisai Soundararajan to prove the majority in the Assembly.
Two Congress MLAs K Lakshminarayanan and Dravida Munnetra Kazhagam legislator Venkatesan resigned to the party. CM V Narayanasamy government has 12 MLAs now and the opposition strength is 14 in the 33 member house.
The assembly has now seven vacancies and the simple majority figure is 14 after recent resignations.
Puducherry legislative assembly:
With the two resignations, the Congress government's strength in the Puducherry legislative assembly has fallen to 12 out of a total 26. The rival NR Congress-led alliance has 14 MLAs now.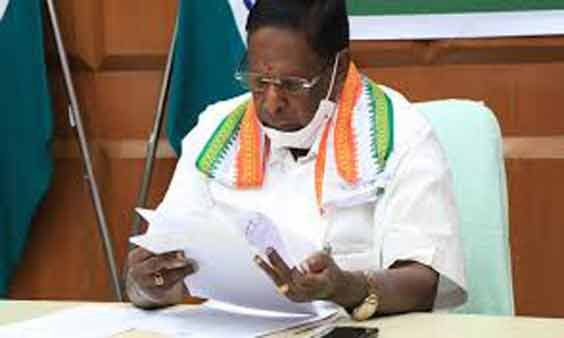 The Congress-led government in Puducherry will face a floor test on Monday as chief minister V Narayanasamy has been asked to prove his majority on the floor of the House.
Chief Minister V Narayanasamy has accused the opposition BJP of trying to topple his government. He alleged it has been the "practice and design" of the government led by Prime Minister Narendra Modi to disturb Congress governments in states like Goa, Manipur, Karnataka, Madhya Pradesh, Arunachal Pradesh and now in Puducherry. "We have decided we will disclose our strategy on the floor of the assembly," the Chief Minister said today.
Holding on to the Union territory, which is scheduled to go to polls in April-May, looks increasingly challenging for the ruling Congress, which has similarly lost power in the states of Madhya Pradesh and Karnataka, in recent years.
It is known that the opposition party submitted a petition to Lieutenant Governor Tamilisai Soundarrajan seeking a floor test on 18th February.
Four outcomes are being seen as likely in Puducherry. The government would remain intact if it passes the test of strength – the Chief Minister claims the resignation of two MLAs is yet to be accepted. The Chief Minister may dissolve the assembly and call for election. Or the government would fall and the Lieutenant Governor would ask the NR Congress to form government with only three months to go for election. In the final outcome, the Lieutenant Governor could bring President's rule.
"Voting shall take place by show of hands. The entire proceedings of the Assembly shall be videographed. The floor test shall be conducted by 5 pm on February 22, and the proceedings shall not be adjourned or delayed or suspended at any cost," said a statement from Soundararajan.
Now you can get latest stories from Indtoday on Telegram everyday. Click the link to subscribe.  Click to follow Indtoday Facebook page and Twitter and on Instagram