Realtor's murder at Moulali: 8 held, one absconding
Realtor's murder | The Lallaguda Police along with the divisional team apprehended all the nine accused involved in the brutal murder of Sk. Afser, a real estate broker of Madhuranagar Colony, Borabanda, here.
The accused identified as James Philips Das, real estate broker of Moulali, Kaleem Khan of Chandabagh; Khalid Khan, Syed Sameer and Abdul Mohammed, car drivers of North Lallaguda, Secunderabad, Mohd Saleemuddin, auto driver of NorthLallaguda, Secunderabad, Mohammed Waseem alias M. A. Aleem, Nadeem Khan of North Lallaguda were arrested while Irfan Khan of Reshmbagh, Golkonda fort, was absconding. The police seized property from the possession of the accused.
Deputy Commissioner of Police, North Zone, Hyderabad city, stated that the deceased Sk. Afser was an accused in a murder case registered in Malkajgiri police station. The DCP said to wreak vengeance, the accused A-1 to A-7 hatched a plan to physically eliminate Afser in retaliation to his high handedness after committing murder of his business partner Shabbir and repeatedly threatened A2 Kaleem and his associates A-1, A-3 toA-7 with dire consequences.
As per their plan, A1 called the deceased to Moulali on May 10 in the evening on pretext of discussing with A-2 and his associates to end the enmity between them. Accordingly, the deceased came to Moulali, where A-1 and A-3 made the deceased fully drunk and brought him to the residence of A-1 where they again consumed liquor. A-2 kept a butcher's knife concealed in his trouser and along with A-4, A-5 and A-6 entered into the residence of A-1.
Realtor's murder
Afser, after some heated argument, shouted on A-2 Kaleem. When Kaleem was trying to move aside, the butcher's knife concealed inside his trouser fell down. Immediately, A-1 picked up the butcher's knife and attacked Afser causing deep cut on the left side of his throat, while held by Abdul Mohammed, Sameer and Saleemuddin. Later, both A-2 and A-3 also attacked Afser mercilessly causing deep cut injuries around his throat and all over the body. The accused A-1, A-2 and A-3 used the butcher's knife and one small knife (Churi) and caused multiple injuries all over the body, till his death.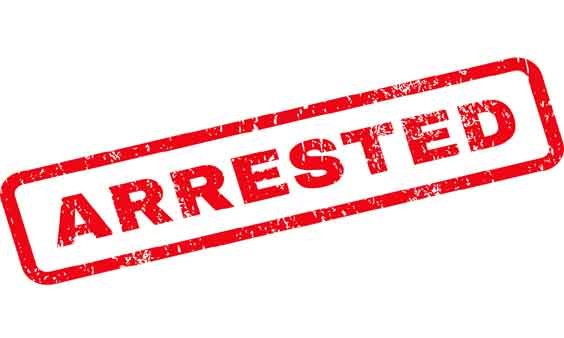 The arrests were made under the supervision of G. Venkateshwarlu, Addl. DCP, North Zone and N. Sudhir, Asst. Commissioner of Police, Gopalapuram Division, P. Venkateswarlu, DI and Crime Team of PS Lallaguda alongwith ACP Gopalapuram Team.
---
Next Story:
Manchiryal/Hyderabad, June 4 (Maxim News): Windstorm has created havoc in the village of Udanuk pally, Jannaram Mandal of Mancherial district. Trees were broken by strong winds. The roofs of the house were lifted. The flexi organized by Chief Minister K.Chandrasekhar Rao in the public meeting organized in Nirmal district center was destroyed due to strong winds

---
Now you can get latest stories from Indtoday on Telegram everyday. Click the link to subscribe. Click to follow Indtoday Facebook page and Twitter and on Instagram. For all the latest Hyderabad News updates