TRS Leads in Hyderabad Graduate MLC Seat
While TRS candidate Palla Rajeshwar Reddy was leading by 7,871 in the Nalgonda-Warangal-Khammam graduates constituency, Surabhi Vani Devi of the ruling party established an early lead of over 1,000 votes
Hyderabad, March 18: TRS candidate Surabhi Vani Devi was leading by the end of the second round from Mahabubnagar-Rangareddy-Hyderabad graduates' constituency. Around 13,395 votes were polled for Vani Devi while her rival BJP candidate Ramachandar Rao polled 12,223 votes. The TRS candidate is leading with 1,172 votes.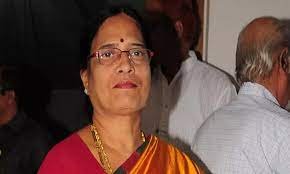 In the first round, 17,439 votes were polled to Surabhi Vani followed by BJP candidate Ramachander Rao with 16,385 votes, Professor Nageshwar with 8,357 votes, Congress candidate Chinna Reddy with 5,038 votes and TDP candidate with 929 votes. As many as 3374 voters were declared as invalid votes.
While TRS candidate Palla Rajeshwar Reddy was leading by 7,871 in the Nalgonda-Warangal-Khammam graduates constituency, Surabhi Vani Devi of the ruling party established an early lead of over 1,000 votes in the Hyderabad-Ranga Reddy-Mahabubnagar graduates constituency over her nearest BJP rival N Ramchander Rao.
The cumbersome process of bundling the 'jumbo' ballots in the two constituencies took an entire day on Thursday and counting began late in the evening.
Rajeshwar Reddy polled 16,130 votes in the first round of counting of votes and 15,857 votes in the second round.
The surprise element was independent candidate Teenmar Mallanna who polled 12,046 and 12,070 votes in the first and second rounds of counting respectively to take the second position in the Nalgonda-Warangal-Khammam constituency.
Now you can get latest stories from Indtoday on Telegram everyday. Click the link to subscribe.  Click to follow Indtoday Facebook page and Twitter and on Instagram