Hyderabad, March 16 (NSS): The IGP of the state Y. Nagi Reddy today said that the clashes between two groups led to communal violence in Bhainsa town of Nirmal district.
He said that the situation was under control in Bhainsa now and added that they had brought the situation under control completely.
Speaking to Media persons in the city, he said that they had booked 26 cases in the incident and arrested 38 people so far. He also said that they had produced four Minors in court.  He  added that they had identified 70 others in the incident so far. He said that they would arrested the identified suspects after securing evidence against them.
Reddy also said that they had bound over 66 people so far. He made it clear that the police were acting in an impartial manner in the incident and added that they would no show any double standards in the investigation of the case. He warned that action would be initiated against anybody if they had committed any crime. He said that 500 police personnel were providing bandobast in the Bhainsa town now.
On Tuesday, a week after the incident, the IG disclosed that the violence was triggered by a Hindu Vahini member, Dattu Patel and his friend Thota Mahesh.
On the day of the incident, at 8.20 pm, Dattu Patel and Thota Mahesh who were going on a bike deliberately picked a fight by hitting a person identified as Rizwan while he was walking on a road along with his friends near Zulfiqur mosque in the town.
Subsequently at 8.30 pm, when Rizwan along with his friends went searching for the duo, Rakesh, Gokul and Mahesh– all members of the Hindu Vahini– attacked them.
Further Dattu, yet again went to Zulfiqur street, a street with considerable Muslim population and picked up an altercation, leading to stone pelting between two religious groups, police said in its press release.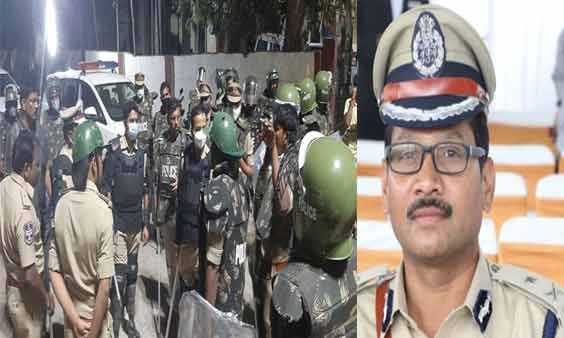 The violence then escalated and spread to the entire town when two counsellors– Abdul Khabeer from the AIMIM and Thota Vijay, an ex-member of Hindu Vahini– each gathering crowds and engaging in arson, police said.
He urged the people of the town and media to observe restraint in the town. (Maxim News)
Now you can get latest stories from Indtoday on Telegram everyday. Click the link to subscribe.  Click to follow Indtoday Facebook page and Twitter and on Instagram