Panchayat elections: Chandrababu releases TDP manifesto
Vijayawada, Jan 28, TDP National Chief Nara Chandrababu Naidu on Thursday released five point TDP manifesto for the panchayat elections.
Speaking to the media, he lashed out at the YSRCP leaders for targeting State Election Commissioner Nimmagadda Ramesh Kumar.
Chandrababu faulted the ministers for criticising the SEC by linking to him and opposed unanimous panchayat elections. He alleged that the NREGA funds released by the Central government were misappropriated.
Earlier, the TDP leader has enlisted the development in villages during his previous tenure as chief minister.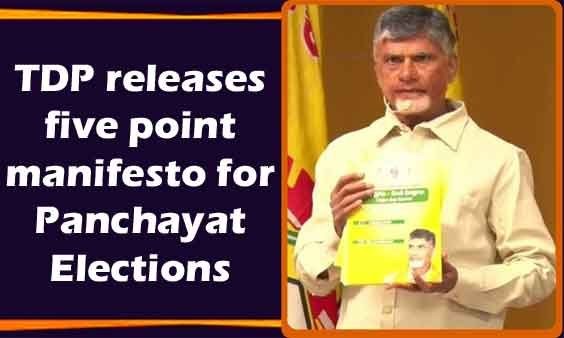 TDP Panchayat Elections Manifesto: The Telugu Desam Party led by former chief minister and party National President Chandrababu Naidu has released a manifesto for the panchayat elections in the state.
Panchayat Elections: Here are five point manifesto
1) Protected fresh water with free taps
2) Ensuring security.
3) Preventing attacks on temples as well as security for public property.
4) Avoid the meters for agricultural motors.
5) Reduction of property tax and provide civic services; creating ideal villages with cleanliness and hygiene.
Mr. Naidu said that the TDP's five plans for village future development would focus on protected drinking water, safety assurance, model villages, self-sufficiency and citizen services with reduction in property tax. Each of the 15,000 panchayats would get Rs.70 lakh to Rs.80 lakh funds under the MGNREGS scheme directly from the Centre, he said.
"The Finance Commission funds are directly given to the villages. If the villagers elect efficient leaders in these elections, all these funds can be used in an effective manner for their overall development.
The ruling YSRCP has even diverted the MGNREGS funds and started harassing the sarpanches who carried out works.
The TDP chief alleged that the Ministers, MLAs and the ruling YSRCP leaders are resorting to 'intimidation and physical attacks' in order to force the residents of Grama Panchayats to accept 'unanimous elections' in the State.
He alleged that the ruling YSRCP leaders had a hidden agenda behind their so-called call for 'unanimous elections'.
"In the present Gram Panchayat elections, 2,248 candidates of Mandal Parishad Territorial Constituency (MPTC), out of 9,696, were unanimous and 125 out of 652 candidates of Zilla Parishad Territorial Constituencies (ZPTC) were unanimous which reflecting how the intimidating tactics of the ruling party have worked", the former Chief Minister lashed out.
But the TDP was giving a call for leaving the choice of electing the panchayat sarpanches to the
village voters themselves so that efficient leaders could be elected for bringing real development
in their villages.,Mr.Naidu said.
Now you can get latest stories from Indtoday on Telegram everyday. Click the link to subscribe.  Click to follow Indtoday Facebook page and Twitter and on Instagram