Rooster Kills Its Owner, Under Police Protection
The cock owner Satish Goud, died of a deep gash on his groin inflicted by his rooster which was tied with a sharp knife, for participating in a cock fight near a temple in Lothunur of Gollapalli mandal
Jagtial: Police officers in Jagitial district attracted unwanted and sensational attention after they began protecting a rooster, which had caused death of its owner two days ago.
The cock owner Satish Goud, died of a deep gash on his groin inflicted by his rooster which was tied with a sharp knife, for participating in a cock fight near a temple in Lothunur of Gollapalli mandal. He was holding the cock tied with sharp knife on one of its legs, when the cock apparently tried to free itself leading to a deep gash on his groin.
A profusely bleeding Satish Goud (45) was rushed to the area hospital in Jagitial, but he bled to death on the way.
Following this the police had registered a case of culpable homicide not amounting to murder (unintentional murder) and they were expected to produce the rooster with its knife in the court of law. Hence, they sent it to a poultry farm, but electronic media began flashing news that the cock had been arrested for murder.
The police officers, who were amused obviously, warned that action would be initiated against those spreading the false news. The station Sub-Inspector B Jeevan explained that it was the police responsibility to provide protection to the cock as part of investigation and produce it in the court of law along with the knives it was tied to. Hence it was shifted to a poultry farm, he said.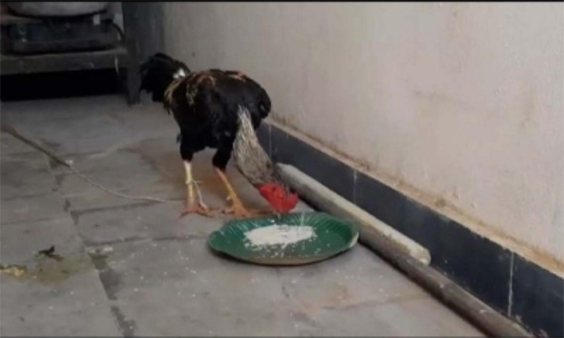 Sathish died accidentally while participating in the cock fight and hence the rooster would not be treated as an accused, but it had to produced in the court as an evidence of cause of death. Other people who participated in the cock fight would also be arrested and produced in the court, the police officer said.
Now you can get latest stories from Indtoday on Telegram everyday. Click the link to subscribe.  Click to follow Indtoday Facebook page and Twitter and on Instagram