OU presents a deficit budget | Osmania University presented a deficit budget of Rs 37.56 crores to the Academic Senate today and sought additional block grant from the Government.
The estimated expenditure of Rs 746.32 crores as against Rs. 708.76 crores available. Of this amount, Rs. 406.53 crores (about 54%) goes towards salaries to teaching and non-teaching staff, Rs. 285 crores (about 38.2%) to pensions and Rs. 54.79 crores (7.8%) goes towards contingencies and loans to employees.
It may be noted that Rs. 130 crores was transferred from the OU Examination Fee Fund Account to the OU Fund account for payment of salaries to the University staff and Rs. 5.0 crores towards contribution to the pension corpus fund.
OU presents a deficit budget
Despite the 18% hike in the Block Grant (Rs. 418.06 crores) for the year 2022-23 sanctioned by the Government of Telangana the university has a deficit budget for the financial year commencing 1 April.
Prof D Ravinder, Vice-Chancellor, apprised the gathering about the activities and events that took place since January 2020 to date. The budget was presented by Prof. V. Appa Rao, EC Member and faculty of Commerce Department.
Meanwhile, the University plans to boost its infrastructure through construction of hostel buildings for girls, administrative building, centenary memorial pylon, reading room complex, e-governance initiatives, improved maintenance of existing buildings and strengthening outreach extension services in the year 2022-23.
Also during the year 2020-21, the University took several decisions that including construction of synthetic athletic track, swimming pool for women, synthetic tennis court, construction of toilets for women in various colleges of University, construction of new toilet block for old PG hostel, NRS hostel, construction of overhead tank for NRS hostel, repairs and renovation of new Godavari hostel, renovation of gents toilets in Arts College, renovation of toilet blocks of Centre for Distance Education, etc. Other important activities include establishment of Civil Services Academy, Human Capital Development Centre and Institute of Indo-Pacific Studies. The University also decided to setup Media point in the campus.
The security of the University campus has been entrusted to an Agency deploying ex-servicemen as security personnel in addition to this the plying of traffic within the University campus is stopped between 8.00 PM to 6.00 AM to maintain clean and green environment.
More security cameras were deployed at administrative building, Tagore auditorium, CFRD building to bolster security.
The University is also adopted and implemented the 1st PRC 2020 to Non-Teaching and Time Scale Employees and the arrears were released.
Similarly, the Dear Allowances to the Teaching and Non-Teaching employees and Dearness Relief to the University Pensioners have been released. Additionally, the subsidy on the medical insurance scheme for teaching and non-teaching employees was enhanced to 10000/- per annum.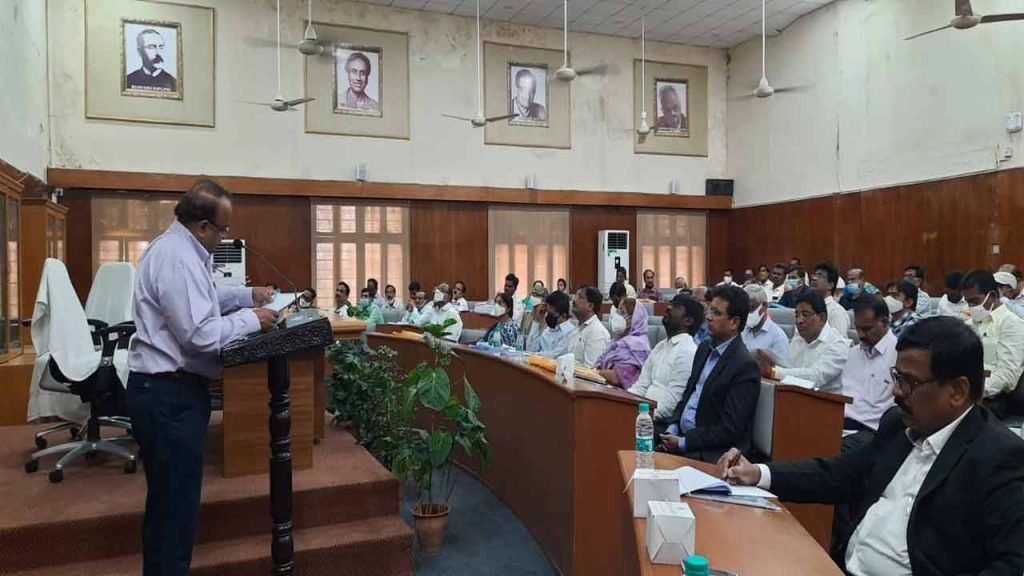 The Academic Senate also witnessed the presentation of the 102nd Annual Report for the academic year 2020-21 that was presented by Prof C. Murali Krishna Chairperson of Annual Report Committee. Various academic agenda too were tabled and approved today.
---
Next Story:
YSRTP President, Y.S. Sharmila asked whether BRS President and Chief Minister K. Chandrasekhar Rao did anything for the state after being the Chief Minister for nine years. 

---
Now you can get latest stories from Indtoday on Telegram everyday. Click the link to subscribe. Click to follow Indtoday Facebook page and Twitter and on Instagram. For all the latest Hyderabad News updates